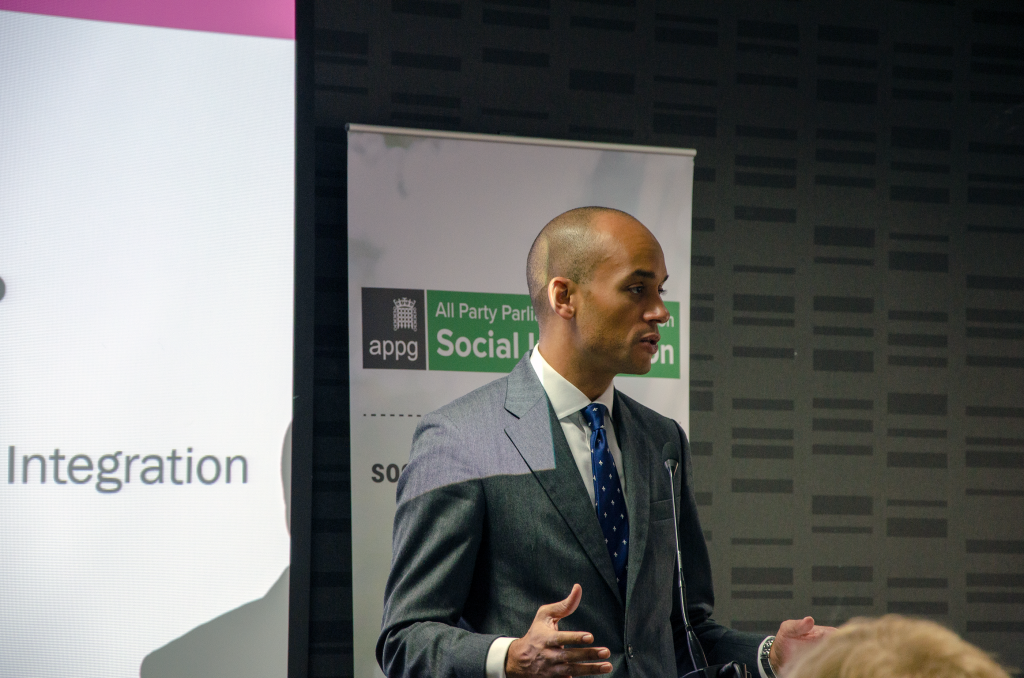 Check against delivery
Good morning. Thank you for inviting me to speak. I wanted to come and talk about the work of the All Party Parliamentary Group on Social Integration, which I Chair and, in particular, to talk about our current inquiry into inter-generational connection. Our secretariat is provided by The Challenge which is a leading charity that runs various programmes across the country to build a more integrated society – we are hugely grateful for their support.
Context for the APPG
We launched this APPG, a cross party group of MPs, in March 2016, which is less than three years ago, but in political terms feels like a different era of calm and stability compared to the chaos you see now. The impetus behind this was a real and growing concern about the ways in which our society seemed to be fragmenting along various lines and the damaging effect this is having on us all.
And what is happening is not just some vague feeling but very real. There is a significant body of evidence that too often, people from different cultural, socio-economic and age groups may be living side-by-side, but they aren't actually mixing with one another, or leading lives that are really interconnected.
Three years on, concerns about social division have only risen. In many ways, the question of social integration, or lack of it, sits at the heart of many of the most prominent social, political and economic concerns of our time. But it often sits there unnoticed. Somehow we perceive it and feel it, but too often it is left unarticulated and unexamined. I think that is changing in light of the debate on Brexit – the Prime Minister and I had an exchange about social cohesion in the House of Commons following her EU statement on Monday and it came up in my meeting with David Liddington, her de-facto deputy, in the cross party talks I took part in this week as well.
Our first inquiry looked at the integration of immigrants and our report called for a much more proactive approach to the integration of new immigrants, and much clearer routes to citizenship and English language provision. We will be looking at the forthcoming Immigration Bill to see to what extent these principles are, or can be, embeded into that Bill through amendments.
Intergenerational connection inquiry
Our second and current inquiry has picked up the question of intergenerational connection. This is a question that hasn't always received much attention, but the voting patterns we saw in the 2016 Brexit referendum and 2017 General Election, brought into very sharp relief the extent of the political divides that have opened up between young and old in this country. The Ipsos Social Research Institute has said that the 2017 General Election saw the greatest political division between age groups they have ever measured.
Furthermore, polling published on behalf of the APPG by The Challenge and YouGov in December 2017 suggested that more than one in four Leave voters of retirement age believed lower wages for the next generation was a price worth paying for exiting the EU, while one in four Remain voters aged 18-34 would have accepted pension reductions for older people if it meant Brexit was stopped.
That is pretty dispiriting, but I think just goes to show that this is something we cannot afford to shy away from. Because disagreement over Brexit has served to shine a light on the issue of generational division in this country, but Brexit is not the cause of that division. This is something the Prime Minister would do well to reflect on.
In some ways, what has been most shocking to see in the course of this inquiry has been the evidence of the extent to which young and old are in danger of physically living completely separate lives. Take these statistics for instance:
For the typical child in our largest cities, just 5% of people in their immediate neighbourhood are over 65. In 1991 this was 15%.
During the 24 years between 1991 and 2014, the median age of rural areas rose nearly twice as quickly as the median age in urban areas.
Between 1981 and 2011, three-quarters of the increase in 45-64 year olds and over-65s across the country took place in villages, communities, and small and medium sized towns. By contrast, 80% of the growth in 25-44 year olds occurred in large towns and core cities.
So, it is not just that different generations appear to have increasingly polarised outlooks; but there appears to be an increasing tendency for them to live quite separate lives, with little regular interaction with one another. So it is unsurprising they have such different outlooks.
Clearly we have a decision to make: do we simply accept these divisions as a regrettable fact of modern life, or do we attempt to do something about them. I believe not only that we must attempt to tackle these divisions, but that we cannot afford not to.
Examples of good practice
In seeking to find solutions, we are not starting from scratch. Our inquiry has heard evidence from and paid visits to a whole range of organisations who are attempting to build bridges between the generations within their communities.
From organisations like the Cares Family, who we visited in Manchester, who create community networks of young professionals and older neighbours to come together to socialise and support one another, to Apple and Honey Nightingale, who we visited in South London, which in 2017 opened the first nursery to be based at a care home in the UK. We have seen numerous examples of pioneers like these who are pointing the way to a better, more integrated future. You can read more about all of them when we launch our interim report is the coming weeks.
But all of these organisations could do with much more support than they are getting. And the principles they are putting into practice deserve to be taken up much more widely than they currently are.
Recommendations
So, our upcoming interim report will set out the foundations of a policy framework which we believe might help achieve this. We had hoped to launch the report this month but that has been knocked sideways with the ongoing Brexit drama in Westminster. However, I want to give you a bit of preview today of what some of those recommendations will look like.
Local government is hamstrung by a lack of resources at the moment, but notwithstanding the financial constraints, it could play a vital role simply by viewing its policies and programmes through a more inter-generational lens than local authorities currently do.
In our public services, and in our nursery and care provision, the principle of co-location of facilities for different age groups should become a watchword and the norm.
We must be explicit in our housing and planning policies about the need to nurture intergenerational connection, and look to foster public and private spaces in which all generations mix.
And we must look more closely at what role technology, and digital technologies in particular, can play in building intergenerational connections rather than becoming spheres of increasing segmentation and division.
Political implications
So, these are some of the ideas and types of recommendations we will be putting forward.
However, if we are going to make a serious attempt to build and improve intergenerational connections, there we need to be clear there will be some difficult decisions to make. And those decisions will pose challenges to those of all political viewpoints.
If we agree that increasing dislocation between generations is something we need to address, then a laissez-faire approach will certainly not suffice. The right balance of sticks and carrots will be necessary and central government will need to take the lead in this. To give one example, fostering greater intergenerational connections through hospitals and care homes, will only happen in a systematic way if driven by the Department for Health and Social Care.
Yet, intergenerational connections cannot be formed by governments. They are formed in local communities, through clubs, activities and local services, in neighbourhoods designed for all ages. As such, communities will normally be best placed to know what might work for them and to develop their own initiatives, and we should enable local councils and others to empower them to do this.
At the same time, we must recognise that supporting and enabling these initiatives will be difficult without any extra money to do so. And we have seen in the course of this inquiry that the closure of shared spaces, like community centres and libraries, and the reduction in local transport services – things that have clearly resulted from the austerity policies of recent years – have served to reduce opportunities for different generations to connect.
But we need to beware of thinking that the ending of austerity would be a silver bullet which fixes all of this. It won't. Rebuilding our intergenerational bonds will require, not just investment, but whole new ways of working and thinking, and in some cases fundamental reform.
These are the challenges we face. But face them we must. Now more than ever we need to act to rebuild bridges between the generations, if we are to have any change of bringing our country back together again.
Thank you.