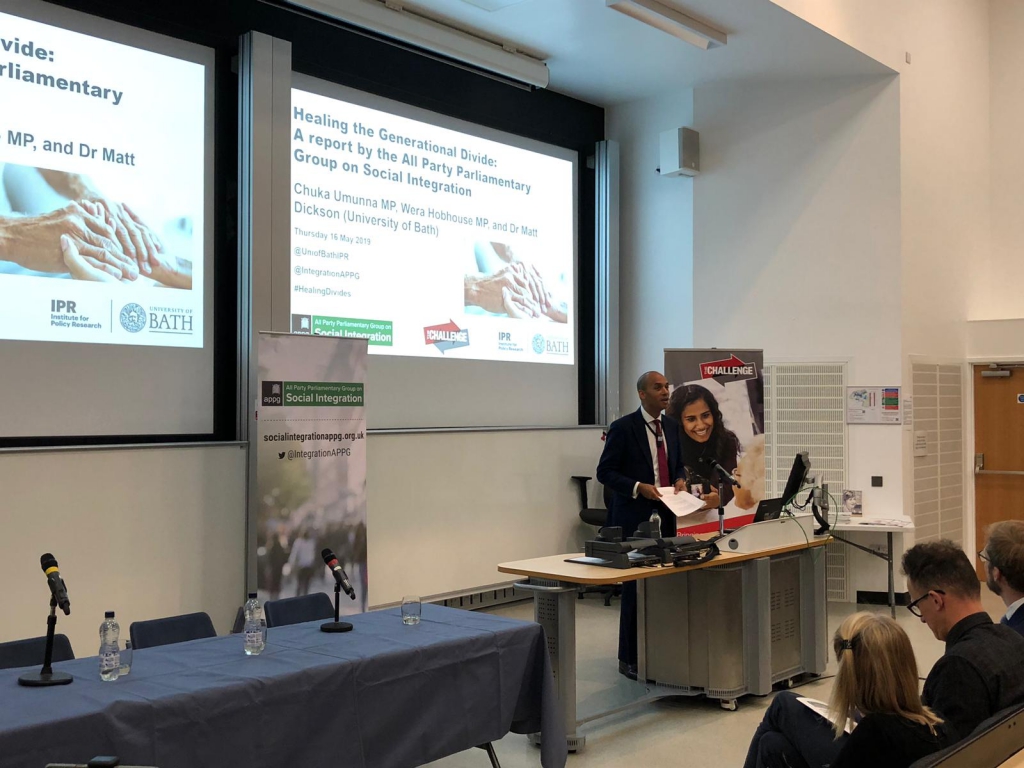 Check against delivery
IGood morning everyone. It's a great pleasure to be here to launch this interim report today. As Antony has just said, this topic of intergenerational connection is the second big integration theme that our All-Party Group of MPs has chosen to focus on.
And we chose to focus on this issue, because of the grave concerns many of us have about the deep political divisions that seem to have emerged between different generations in this country.
We saw these divisions very clearly in the 2016 Brexit referendum and then again in the 2017 General Election. Indeed, according to Ipsos Social Research Institute, the voting patterns in the 2017 General Election showed the greatest divisions between age groups they have ever recorded.
Alongside this, we also had a feeling that, although the idea of social integration seems more important now than it has ever been – and I believe it will become even more prominent as we think about the future direction of our society – the specific question of intergenerational connection is one that hasn't yet received the attention it deserves.
In the course of this inquiry we are aiming to change that and what we have found so far has fully underlined the importance of doing so.
Because the evidence that we have seen has provided us both with real cause for concern as to the current state of affairs, but also with some really inspiring examples of what we might be able to do to change things. H
Our concern over the extent of age-based divisions has been further underlined by evidence which suggests that the young and old are not only displaying polarised outlooks, but are increasingly in danger of living quite separate lives, with little regular interaction with one another.
Take these statistics for instance:
· For the typical child in our largest cities, just 5% of people in their immediate neighbourhood are over 65. In 1991 this was 15%.
· Between 1981 and 2011, three-quarters of the increase in 45-64 year olds and over-65s across the country took place in villages, and small and medium sized towns. By contrast, 80% of the growth in 25-44 year olds occurred in large towns and core cities.
What we appear to be seeing is that, not only has the extended family become increasingly geographically separated since the mid-twentieth century, but that the impact of this on intergenerational connection appears to have been exacerbated in recent decades by increasing residential segregation of young and old.
However, we have also found real inspiration through hearing from a whole range of civil society organisations who are fighting back against the age divide and finding new and innovative ways of bringing different ages together to form meaningful and lasting connections.
Groups, some of whom are with us today. Like Good Gym, who are active in Bath and whose founder Ivor Gormley is with us. Good Gym encourages younger people to combine getting fit with connecting with older people in their communities, for instance by running to the home of an older citizen who will act as a buddy and coach.
Or take the Cares Family, who we visited in Manchester, who create community networks of young professionals and older neighbours to come together to socialise and support one another.
We have seen numerous examples of pioneers like these who are pointing the way to how we create a better future in which people of all ages live much more inter-connected lives, lives in which we get to draw on, understand and learn from the experiences of all generations.
And in the current context in which we find ourselves, I don't think we can any longer afford to see this as a 'nice to have'. The growing generation gap we have seen is one of a number of divides which are threatening to fundamentally undermine the health and cohesiveness of our society.
Polling we have undertaken for the launch of this report, confirm this:
· Most British people agree that Brexit has further widened the age gap between older people and younger people. Only 11% disagree.
· Most people in Britain believe that older people got a better deal when they were young than today's young generation.
· Yet, most older people unfortunately view younger British people as less hardworking than older generations were and more inclined to moan.
While civil society may be leading the way, rising to a challenge of this magnitude will also require political leadership, at both national and local level.
But crucially it seems clear that it will also require new types of leadership, and new ways of thinking that will push all of us outside of our comfort zone and our typical ways of thinking. Because this is not just about spending more money (although that may well be necessary), or about public solutions versus private solutions.
As I think this report shows, tackling the age divide requires, as much as anything, fundamentally new ways of thinking about how we deliver services and for whom; new ways of thinking about public spaces and private spaces and how both can build or prevent meaningful connections between people. And it will require present and future technologies that aid the building of these connections, rather than expanding the divides.
That is a massive challenge for all of us. One that we are just beginning to answer today, but one this report makes a significant step towards.
And I'm going to handover now to Wera Hobhouse, a familiar face for many of you I'm sure, and someone who had been an important supporter and contributor to this report and the work of the All-Party Group on Social Integration, to talk in more detail about some of the key ideas in this report and what these mean to her.