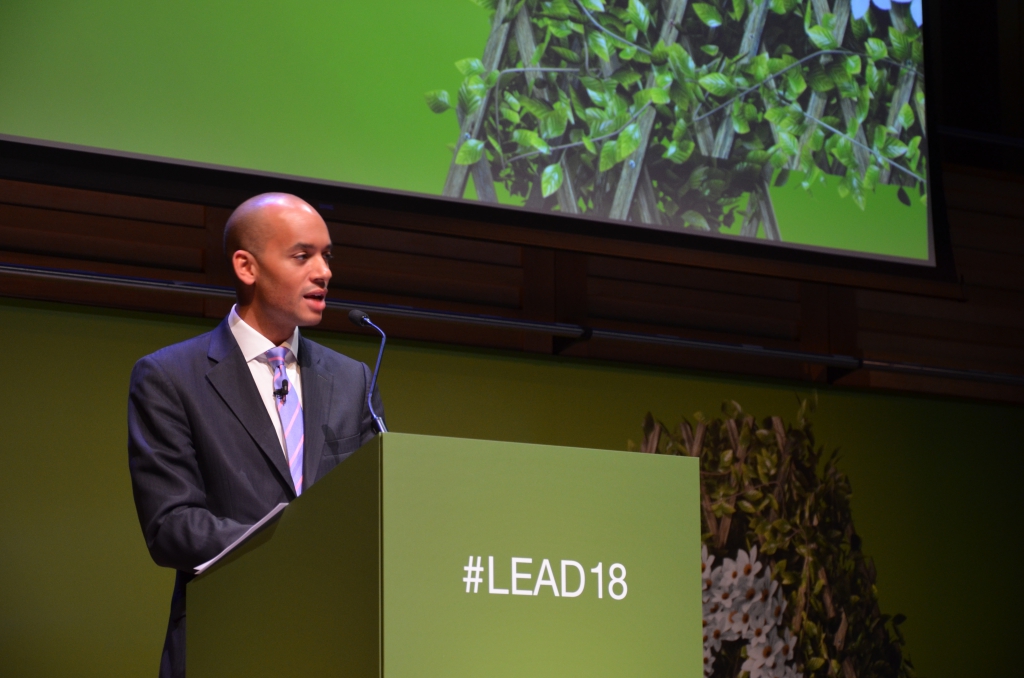 Check against delivery
Good morning ladies and gentlemen. Thank you to the Advertising Association for inviting me to speak to you this morning.
The British advertising industry continues to be world leading, and a hub for creativity, talent and innovation.
Our setting is not lost on me. C. P. Scott, one of the founding editors of the The Guardian once said, "comment is free, but facts are sacred".
During the EU referendum campaign there were a lot of hypothetical predictions for what would happen if we voted to leave or remain. Now, the negotiations are under way, we have more and more new facts.
I believe Sir Martin Sorrell, CEO of WPP, was speaking for your sector when he said the biggest issues facing British business is uncertainty and Brexit has already damaged the UK's "global brand".
The head of the OBR is clear today: Brexit has harmed more than helped the economy and the cost of leaving the single market and customs union outweigh any benefit.
This is the elephant in the room Brexiteers want to hide, but facts which we cannot ignore.
Now, I'm going to put my cards on the table. As some of you may know already, I'm what Nigel Farage likes to call a Remainian, a Remoaner, a saboteur. I was a leading spokesperson in the Britain Stronger in Europe campaign. I chair Leave Watch a grassroots campaign to hold government ministers to account. And I'm also a spokesperson for Open Britain, which is campaigning for a close relationship with Europe after Brexit.
So I think you can tell where I'm coming from. I was perhaps a little surprised when I was asked to replace Liam Fox as they keynote speaker this morning – my comments will be slightly different to his.
I have three important messages for you all today.
First, it is becoming increasingly clear that Brexit – in the terms it was sold to the British people and British business – is not deliverable.
Second, Conservative ministers are deliberately deceiving the British people about the Brexit negotiations. This Government is not being honest with you.
So, third, I'm here with a call to action to the British advertising industry to make your voices heard in this Brexit process. Do speak up for your sector, your employees and your clients and spell out to government what you need in order to achieve growth beyond Brexit.
I am proud that Lambeth recorded the highest Remain vote in the country. In my constituency in Streatham – the centre of the universe as far as I'm concerned – almost 80% of Streatham residents voted to Remain in the EU.
Nationally many others took a different view and the referendum revealed deep divisions in our country, between nations and regions, generations, socio-economic classes, and ethnic groups.
The referendum did not stipulate how to leave, and what leave looked like. That's important to understand.
Last week I visited the European Commission and the European Council in Brussels. I've also been meeting ambassadors from the 27 other member states of the European Union and have discussed Brexit with a number of senior British civil servants.
I have no problem with the Government being ambitious and wanting to get the best deal for Britain – we all share that goal. However, I do take issue with ministers deliberately deceiving people and sowing the seeds of fantasy when – as the reality of Brexit becomes clear – it is open to the people to take a different view on whether to press on with Brexit at the end of the talks.
Here lies the first great deception. Government ministers portray Brexit as a single linear road with one destination where we cannot slow down, stop or turn off. That is simply is not true. Donald Tusk, President of the European Council, and President Macron of France made clear last week that the British people are in charge of this process and there is no political or legal obstacle to Britons choosing to stay in the EU if they don't like the Brexit deal we end up with.
The second great deception is to deny that the unsustainable negotiating red lines set out by the Prime Minister are severely restricting the ability of Britain to get a decent deal from this process. Our EU counterparts have put a number of options on the table. Theresa May is the one ruling them out.
For example, the single market provides tariff-free trade between countries and a common framework of rules including employment rights, competition policy, consumer and environment protections.
EU countries come together through the customs union and apply the same tariffs to goods from outside the union. Non-EU countries can participate in both bodies and doing so is the best way of retaining the benefits of EU membership while being outside the EU. You do not have to be in the EU to be a member of the single market and the customs union.
However, Theresa May took these options off of the negotiating table before negotiations even began, in order to appease the hard-right in the Tory Party and their dogmatic political interests.
This leads me on to the third great deception – that we can have the exact same economic benefits that we currently have if outside of the EU and its economic structures. Italy's Secretary of State for EU Affairs, Sandro Gozi, told me on my LBC radio show on Saturday that we will not be able to enjoy the economic benefits that we currently enjoy if we are outside of the single market and the customs union.
Yet UK ministers keep insisting otherwise. You could view this simply as the EU adopting a tough negotiating position – but the reality is that if they give us special arrangements, other third countries with whom they have existing agreements will demand the same too.
Norway has already warned that giving into UK demands for a special trade deal which would cherry-pick UK sectors to participate in the single market would force Norway to rip up its own agreement with the EU and make similar demands. The EU are not going to risk tearing apart the single market, to give the UK a special deal – generally or in any particular sector be it advertising, financial services or anything else.
The Government is labouring under the misapprehension that we would be able to secure a free trade agreement outside of the single market that not only covers goods – like the FTA Canada has with the EU – but most services too. David Davis calls this Canada Plus Plus Plus.
Again, Macron and Gozi made clear last week: you can only have this if you remain in the single market. The simple message coming from our EU counterparts, in conversations that I have had with them, is that the UK cannot both have our cake and eat it – contrary to what the UK government is telling British business.
So, the reality is that while the European Commission is looking to strengthen the single market into digital and online services – something that would significantly benefit the UK's advertising industry – Britain will be left on the sidelines as things currently stand.
And where are the public on all of this? A recent poll conducted by BMG showed that while 60 per cent of those surveyed wanted to stay in the single market after Brexit, just 16 per cent thought we should leave it; 57 per cent wanted to stay in the customs union while just 16 per cent disagreed. Why won't the Government listen?
The last great deception is that the EU is preventing us from obtaining a bespoke agreement. There is a general acceptance that any agreement for a particular country is going to be "bespoke" because it would talk to the particular needs of that country. President Macron said as much on Sunday.
However, even though Theresa May and her ministers keep talking about the desire for a "deep and special partnership" and a "bespoke" UK deal, the Government have failed to set out what they think that looks like.
The cabinet only started to discuss what the governments desired end state would be after we had moved on from the first phase of negotiations with the EU – and they cannot agree on what it should be.
There is also an inescapable practical issue – because May prematurely triggered Article 50 without working out so many of these details, there is simply not sufficient time to agree a properly bespoke deal. This is an obstacle of Theresa May's creation, not the EU's.
Let me go back to where I started.
It seems clear to me, following conversations with our EU counterparts, that Brexit, in the terms that it was sold to the British people, is impossible to deliver.
You've got these second-hand car salesmen in Michael Gove and Boris Johnson who have sold you what you thought was going to be a shiny new Audi with not much mileage on the clock and all the added extras. You envisage getting from A to B very easily.
Now you've gone to look at the car, and it's an old banger, god knows how many miles on the clock, and it's going to break down. Their worry is that you'll now want to abort your purchase.
I understand that business can be nervous about getting involved in political debates but the political is commercial in this case – that is unavoidable.
The UK's advertising industry is renowned throughout the world for its excellence and creativity. Despite the global reputation of the London's advertising industry, most people who work in the industry in the UK aren't based in London. More than half work in the regions and cities outside the London.
So be confident. Speak up as an industry. Speak up for your sector, your employees and your clients.
Spell out to government, and parliament what you need us to do in order to achieve growth whatever happens.
The British advertising industry is too important not to be a loud voice in this debate.
Thank you very much.