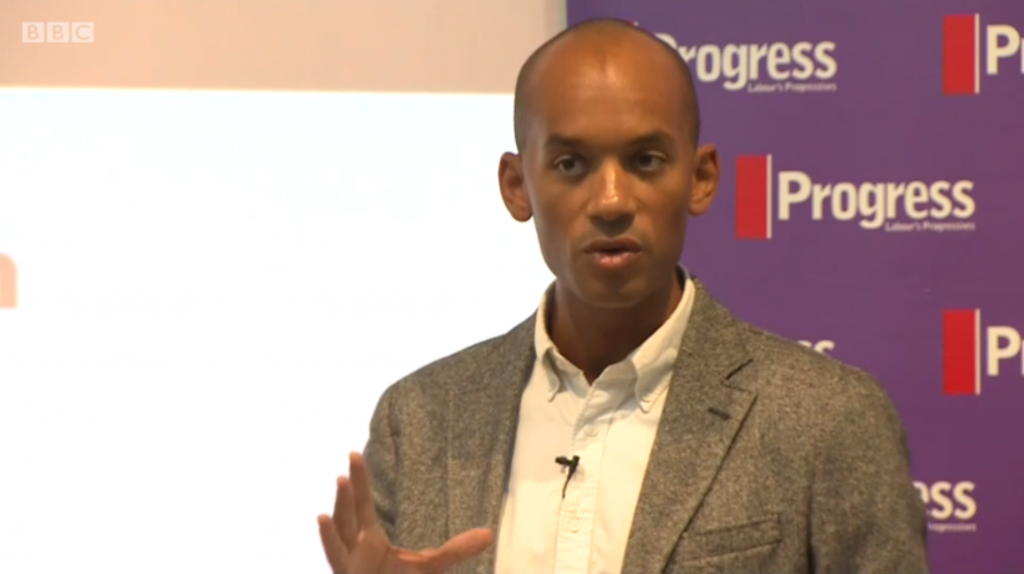 Check against delivery
I was born and raised here in London where I live with my wife and family. My father came from Nigeria. My mother, half English and half Irish, hails from Sussex.
In some senses, my family's story is a modern British story. My father was 23 when he arrived in 1964 from Nigeria. He had one suitcase and no money. He found a job as a cook in south London, then worked in a car wash. He was ambitious. He saved his money. He took an accountancy course and then he built his own import-export business. He worked damn hard.
My mother was a probation officer and in the early years she supported the family while my father built up his business. Later she set up a catering business, ran a market stall and then became a lawyer.
They both gave me the desire to work hard to provide for my own family. They both put their family, and the welfare of their children, first. They taught me responsibility and love.
Through the incredible stories and experiences of our families – of immigrants who travelled from far and wide to these shores – we have learned those values of working hard, of making a contribution, and of playing fair. I believe these progressive values are deeply rooted in the traditions and institutions of our country.
I was 13 when my father was killed in a car crash and cruelly taken from us. This tragedy taught me that life can be dark and precarious. As you would expect, his death changed my life. I had imagined I would follow him into his business. But that was all gone. So instead I took a different path and trained to become a lawyer. I practised as a solicitor specialising in employment law, acting for companies, entrepreneurs and individuals.
My father's death taught me that people need one another. We need a society which recognises our mutual obligations, and our need to belong. We share in the good times and we support one another in the bad. These beliefs are what make me a social democrat, they are what make me centre-left. Up until the last couple of years, the centre-left was always considered to be a legitimate part of the Labour tradition.
My social democratic, centre-left beliefs are what drove me to seek to put something back into my community as its member of parliament. Our tradition is one that in office ensured the MacPherson Inquiry into the murder of Stephen Lawrence was established and acted on; which outlawed discrimination not only on the basis of one's race but on the basis of your religion too; which saw to it that SureStart children's centres, which disproportionately benefit BAME families, were set up in every community; which instituted the first ever national minimum wage; which put in place the education maintenance allowance; and so much more.
There is now a clear and present danger that this tradition is driven out of our party. Having only been re-elected by their constituents last year, already centre-left MPs are being targeted systematically with motions against them for standing up for these values – for demanding we have a zero tolerance of racism in our party. More motions such as this are expected by colleagues. My message to our leadership: it is within your power to stop this so call off the dogs and get on with what my constituency, one of the most diverse communities in the nation, demands we do – without equivocation, fight this Tory Brexit. That is where all our efforts should be.
Because today we are meeting as parliament seeks to tackle the biggest issue this country has faced since the second world war. An issue that impacts on every policy area like no other, and every family like no other. As we seek to make our way through this mess which the Tories have created, we will need to be guided by our centre-left values more than ever because only those values can provide a route through all of this.
The vote to leave the EU has already had a materially adverse impact on people's lives and we have not even left yet. Our different diverse communities will be affected more than most, which is why it is so important that BAME voices are heard loud and clear in this Brexit process. This conference could not be better timed.
The handling of Brexit in the two years since the referendum has been an utter shambles. Whether you voted Leave or Remain, nobody said it would be like this and no one voted for such chaos and incompetence.
Food prices have already increased as a result. If we leave without a deal, the chair of one of our biggest supermarkets tells me they will increase by a further 10 per cent. This hammers those on low and middle incomes whose weekly supermarket shop makes up a higher proportion of their spending.
The promised £350m extra per week for the National Health Service is nowhere to be seen. Instead, doctors and nurses from the EU are leaving the NHS in droves just when we have a staffing shortage. Over 10,000 EU health workers have already left and the number of EU nurses joining the register to work in the UK fell by 91 per cent in the last year. Boris Johnson omitted to plaster these devastating consequences on his big red bus.
Businesses are already moving European operations and jobs from here to the continent.
Panasonic has announced it is moving its European head office to Amsterdam to avoid potential tax issues related to the UK's withdrawal from the EU. Airbus warned in June it could move operations out of the UK if Britain leaves without a deal.
Over 10,000 EU health workers have already left and the number of EU nurses joining the register to work in the UK fell by 91 per cent in the last year. Boris Johnson omitted to plaster these devastating consequences on his big red bus.
In short, the gap between what was promised and what has happened, is gaping. Whatever you thought of the claims made and however you voted in 2016, 2018 has proved Brexit in the form it was sold is impossible to deliver.
And what have the Brexiters done, having visited this chaos on us. Of the many Brexit cons few are greater than the idea that this is a fight for the people against the elite. How can it be when even before leaving the EU the average family is now £900 a year worse off?
That may be peanuts to the people leading the charge to the cliff edge. But it is a huge amount of money to the 'Just About Managing' families that Theresa May said would always come ahead of the 'privileged few'. It is a huge amount of money to people in my constituency who cannot make ends meet.
Let me be absolutely clear – it is a privileged few who are the ones pushing hardest for a hard or no deal Brexit, but it will make those 'just about managing' families even poorer.
Hard Brexit is a project of the elite. For the elite.
And what exactly have they been doing to protect themselves from the fallout from Brexit? Jacob Rees-Mogg's City investment firm has shifted money to Ireland amid concerns about being cut off from European investors. Nigel Lawson is seeking residency in France. And Boris Johnson has gone back to his previously £275,000 a year column writing, rather than sticking to the job and delivering what he argued for. He is more concerned with the Tory party leadership.
Which is why we on the left must fight it.
Of course, our different diverse communities already feel all of this. But we have felt something that we thought we would not have to live through again, certainly not in the same way as the first generation who arrived here decades ago like my father: the normalisation of the hatred which this Brexit debate has unleashed.
In Britain, the level of hate crime committed rose by 49 per cent in the weeks following the referendum. This is now backed by a substantial body of academic research showing that the referendum materially increased hate crime in this country during and after it occurred. The UN's committee on the elimination of racial discrimination concluded that 'British politicians helped fuel a steep rise in racist hate crimes during and after the EU referendum campaign'. In the evidence they gave to the cross party Home Affairs select committee, Hope Not Hate identified Johnson, Nigel Farage and the campaigns of which they were a part for carrying a heavy responsibility for creating the environment in which this happened.
As a result, a small unpleasant minority felt licenced to engage in and vocalise hate due to the disgraceful nature of the Leave campaigns. Stoking hatred and division will be part of their appalling legacy and our different BAME communities have already paid the price and are still doing so.
In the face of all of this, it would be a complete betrayal of our values for the Labour party to act as a bystander and wave through this disastrous Brexit, for which there is no majority in parliament, let alone the country. It is simply not good enough to adopt a position which refuses to make the case for a People's Vote on the deal and at the same time leave it on the table as an option in the event of impasse in the House of Commons. That is simply constructive ambiguity continued, which needs to be junked.
An overwhelming majority of our voters and our members, alongside important affiliates – such as Community Union, the GMB and the TSSA – have a clear and unequivocal position: democracy demands the people get the final say on how this country leaves the EU and whether ultimately we leave, given the appalling Brexit we have been saddled with. So let us dump the prevarication, stop using internal factional reasons as an excuse to avoid it, and back a People's Vote wholeheartedly now.
We owe it to future generations – no other course can ensure progress. Progress is what we are supposed to be in the business of securing, for everyone in this country, regardless of creed, colour, class or background. So let's do it.