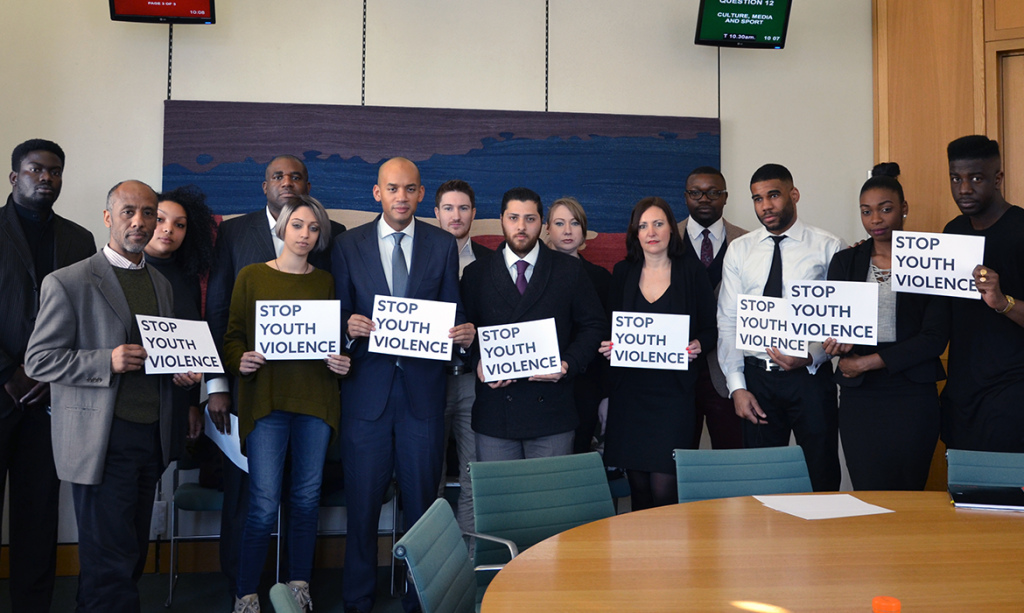 "On Friday, my constituent Zac Olumegbon was murdered in a planned attack close to his school. He was just 15, and I know that the thoughts of the entire House will be with his family at this very difficult time. He was the 13th teenager to lose a life needlessly in our capital city. Can the Prime Minister tell me, the rest of the House and the country what his government is doing, and will be doing, to stop this happening in our communities?"
That was the first question I ever asked at Prime Minister's Questions, then with David Cameron, shortly after being elected in May 2010.
Zac was stabbed to death in front of Park Campus School in our borough of Lambeth in July 2010. Only the day before, he had spoken at a "Youth Against Violence" conference and was trying to turn his own life around, having got involved with the wrong people at a young age. He was associated with TN1 ("Trust No One") – often referred to as a "gang" locally (more on the use of that term below) – who operate in the part of my constituency the home secretary visited on Monday to launch the government's strategy to tackle serious violence.
During the trial of Zac's five teenage murderers in 2011, the Old Bailey heard how he had been hounded down, was stabbed four times and then lay dying on his back in the garden of a house just yards from the school. His family, like many others I have worked with in my area, have been doing what they can ever since to ensure others do not suffer the same tragedy and heartbreak.
It is appalling that so little has changed since I asked David Cameron (Theresa May was, of course, his home secretary) that question, despite the best efforts of the local communities being blighted by this violence every week. The bloodshed and violence on our streets – often not reported to the police but so frequently in evidence at local A&Es – has been going on for months but for too long has been relegated to the back of the queue in our national conversation. The new focus on the issue is welcome and long overdue.
There's no doubt about it: if we saw this number of fatalities and the sheer appalling nature of this violence among well-off, privileged children attending some of the most prestigious schools in the country, it would be front page news every single week of the year, a point made very forcefully by my friend David Lammy last week. Because this is unfolding in some of the most deprived wards in the country, it is simply not given the attention it deserves.
Part of the problem is the use of the term "gang" (I've been guilty of using it myself in the past), which needs to be expunged from the public debate about our young people.
Labelling young people in this way reinforces the notion that they are gangsters when they are not. These terms enable officialdom to put all of these young people into a pigeonhole and carry on as if this is what one expects in certain communities. Ian Joseph of the University of East London highlighted in some interesting work that using this term does little to address the real causes of youth violence.
In any case, the term "gang" and the imagery it provokes is increasingly inaccurate. Ten years ago, there tended to be large groups of young people operating together, whereas now the groups are smaller and more locally based, sometimes in and around a particular estate. Social media has helped bring this about. Essentially, the situation is a lot more fluid than we might imagine.
The scale of the challenge we face stems from the complexity of this issue. Yes, some violence is carried out by young people from dysfunctional and chaotic families with a history of, say, domestic violence or substance misuse. But the truth is that many young people who get wrapped up in this kind of violence are from quite stable families.
Poverty is almost always in the background. I've been told by young people who live this life of violence or have managed to get out of it that one of the motivators is the desire to provide for their family – usually their mother, as absentee fathers are frequently a problem.
The link with the drugs market is clear, where drug dealing is seen as a way of making ends meet and helping Mum pay the bills. Sometimes young people who do not have anything are robbing from other young people who don't have much either – then there is revenge and a cycle of violence that follows.
Outside of school, teens too often find themselves with nowhere to go. Many of the things – after-school clubs, sports provision, extracurricular music lessons and so on – which middle income families take for granted and which can occupy their children out of school cost money that low-income families in my area do not have. Parents who might be holding down more than one job on zero-hours contracts with irregular shifts can't be expected to meet those exorbitant costs.
The story is not the same in every case. This is not an exhaustive list, nor an excuse for what is going on – but these are all contributing factors. So what do we need to do?
First, we need to elevate the standing of youth work so we consider youth workers to be as important as teachers in looking after the welfare of our young people. Youth work should not be seen as an added extra we expect volunteers to do. We need properly trained and skilled people who can make sure that we channel our young people's energy in the right way.
The last Labour government introduced the "Every Child Matters" programme to provide wrap-around care for children from long before they went to school to long after. We need an "Every Teenager Matters" approach, with more targeted schemes drawing on best practice around the UK like in Scotland where they halved the number of homicides in a decade after taking a similar strategy.
More role models who have actually been members of these groups or victims, have suffered the consequences, and turned their back on a life of violence and crime need to talk to our children in school about their experiences. They are far more likely to be listened to than teachers talking in abstractions.
Part of the reason so many young people don't have enough money is that the unemployment rate among older teenagers is high. The UK's headline unemployment rate is 4.3 per cent but for 16 to 24-year-olds it is almost three times higher at 12.3 per cent. We can tackle some of this by increasing the provision of technical and vocational skills available to young people, rather than simply asking them to jump through exam hoops that might lead nowhere.
Of course, we also need more neighbourhood police. It is ridiculous to suggest having more neighbourhood police officers – who the home secretary will need to enforce her new Offensive Weapons Bill – will not help to reduce youth violence. It appears from the leaked paper reported on Monday that a fall in police numbers is likely to have contributed to a rise in serious violent crime. My community is certainly crying out for more, not less, officers on the streets.
At the heart of any strategy must be a public health approach, as advocated by the World Health Organisation and deployed to very good affect to reduce violence in Scotland as mentioned above. It looks at violence as a condition enabled by society, and demands collaboration and joint working between different organisations to address the problem. It identifies four layers: the individual, their relationships, their immediate community and wider society. This goes to show that whatever the Home Office strategy, we can't expect government – local or national – to solve this problem for us. We all need to take ownership of it.
One positive change since young Zac Olumegbon was killed is the shift in attitudes from seeing this as an issue of enforcement and sanction to focusing on the health and wellbeing of our young people. Many of these young people are going through the sort of trauma no person should have to go through in their lifetime, never mind as children. Ministers will be making a huge mistake if they think simply announcing tougher sanctions and yet another law on weapons – important as these are – will stop the appalling violence in London today.