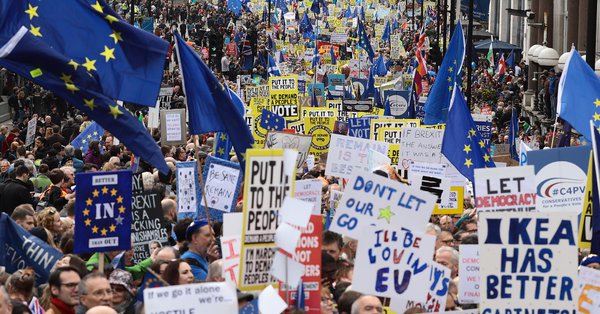 Following the third defeat of the prime minister's flawed Brexit deal last week, a long extension to the Article 50 process has increased in possibility. Why?
Practically, it is hard to envisage how parliament will be able to come to consensus on a way forward and pass into law all of the primary and secondary legislation required to prepare the ground for the UK's departure from the EU (if it ever happens).
The Independent Group of MPs (TIG) will be supporting any measures that provide for a People's Vote with Remain on the ballot and, if that not possible, for the revocation of Article 50 if thats what it takes to stop a 'no deal' Brexit – we certainly will not facilitate Brexit like the main parties. But, whatever gets through, I'm not sure we'd be able to pass all the necessary legislation even by 22 May at this rate, the latest date pencilled in by the EU Council for our departure.
Politically, even if a majority forms behind a way forward on Brexit (a people's vote and a customs union scored the highest number of votes last week), it is hard to see how the current PM can take it forward with the EU, given she has argued so strongly against any other alternative to her own.
Her chief whip, Julian Smith, was right to say in a documentary to be aired on BBC2 this evening that when they lost their majority in 2017 "the government as a whole probably should have just been clearer on the consequences of that". The consequence of doing this and having ignored the post-2017 election parliamentary arithmetic, is that the PM cannot now get out of the position she boxed herself into.
This means that there will be a change of leader of the Tory party and PM before any further progress is made on Brexit – that will necessitate several months for the installation of Theresa May's successor. So a long extension is becoming inevitable – even MPs of the hard right Tory ERG tell me this is what they expect to happen and they will just have to wear it, in spite of them wanting us to crash out ASAP.
If we are still in the EU after 22 May then we will have to hold European Elections to select new British MEPs to represent our country in the European Parliament.
So the Independent Group of MPs (TIG) has applied to register as a political party in order to stand candidates in any European elections that come about as a result of a long extension of the Article 50 process. In order to be able to put forward candidates on regional lists under the system of proportional representation used to elect Members of the European Parliament, any group must be registered as a political party with the Electoral Commission.
We have been overwhelmed by the public support for our group since we were established last month, with tens of thousands of people all over the country signing up as supporters. Between us, my colleagues and I represent numerous regions across the country and what we have seen is that there is clearly an appetite for an alternative to our broken politics which needs fundamental change.
Whether people voted Leave or Remain, the view shared by the majority is that the disastrous Brexit process has shown how wanting the established parties are. A new party will shake up the two-party system and provide people with an alternative that can change our country for the better, which is why we have applied to the commission to set up a new one under the name, "Change UK – The Independent Group."
One of the reasons people are so fed up of politics is because they do not believe those in it understand their lives and, more often than not, think politicians are out of touch. One of the things we are most proud of is that TIG is a diverse group of MPs which reflects modern Britain. We are drawn from different generations and backgrounds. Most importantly, our group does not conform to the stereotype of MPs who have only ever been creatures of Westminster.
It is important that any group seeking to be part of the government of our country has experience of politics and there are members of our group who have plenty of that; but we all have a lot of experience from outside politics too. We include a former GP, teacher, lecturer, social worker, solicitor and TV presenter. Our interim leader, Heidi Allen, who has been appointed until the election of a permanent leader at our inaugural conference in September, is a great example of this.
Heidi came to politics from business, having worked for 18 years in a variety of industries. Prior to running her own manufacturing business, she ran her own pub and then went on to work in the private sector for organisations such as ExxonMobil and the public sector with the Royal Mail. As a new party, we will – if registered by the Commission in time – have a unique opportunity to stand candidates who are new to politics and can bring a wealth of experience to the table like Heidi and other members of TIG. That is our goal.
Whatever happens with Brexit, the Westminster establishment wants to revert to business as usual. This cannot be allowed to happen. Never in my lifetime can I think of a time politics has needed change more.