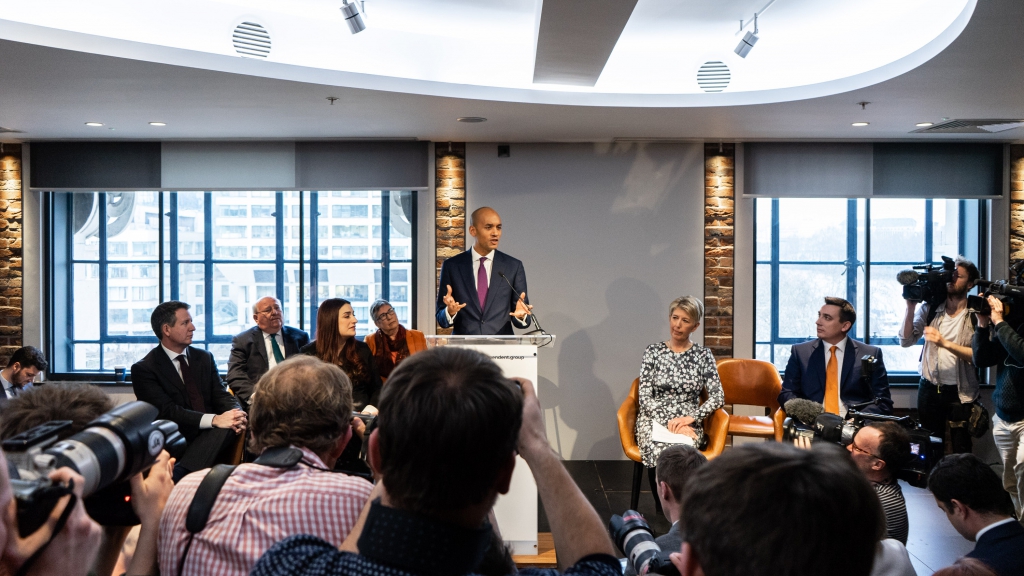 A week ago, along with seven other colleagues, I left the Labour Party to co-found The Independent Group of MPs. We were joined by another former Labour colleague the day after and on Wednesday three former Conservative MPs took our number to 11. We are encouraging others who, like us and millions of others, have felt politically homeless and fed up of the old politics to join us to create something new giving people an alternative to the status quo, establishment parties.
Already we have signalled that we intend to be activists in the House of Commons for the mainstream majority in Britain – which is why this week we will bring new contempt proceedings against the government if it fails to publish cabinet briefing papers on the impact of a no-deal Brexit on business and trade. Two weeks ago TIG MPs had tabled an amendment (in the name of Anna Soubry) to force ministers to do this but we withdrew it when they relented and promised to publish these papers before the vote this week. They appear to have rowed back on that promise – if they do so, we won't let them to get away with it. We will show that our actions match our words when we say we will do all we can to stop the disastrous trajectory our country is on.
The common thread running through our grouping is the progressive values we share. We hail from different political traditions so have taken varying political positions in the past. It means, for example, that former Labour members have voted against every Conservative Budget since 2010, whereas the former Conservative members have done the opposite. We see the fact we haven't all agreed on everything and don't parrot the same line like robots as being a huge strength not a weakness. If we, as a diverse group, can reach a consensus on economic policy, we are much more likely to settle on a position that can unite our divided country unlike the existing political tribes who often oppose each other for the sake of it.
It is the fact that we hail from different political traditions which distinguishes our project from what was attempted in the 1980s. The SDP was essentially another Labour Party, whereas we want to build an alternative that unites those who have progressive values across the centre left, the liberal middle and the centre right, and who are currently sitting in parties with others whom they have increasingly less in common with.
In any event, we recognise that the left/right fulcrum around which so much political debate revolved in the last century is not as relevant in the current one. The 2016 Brexit vote – where your age, class, whether you have a nationalistic or internationalist outlook, where you live and other factors featured strongly – is perhaps the best example of this.
As a group, we also better reflect modern Britain than those who attempted to change British politics in the past. We are not a bunch of "grandees" who have been part of the furniture in parliament for decades. Instead, our group comes from a wide variety of backgrounds, including a former lecturer, social worker, solicitor, entrepreneur, a GP and a church leader. We represent regions across the country. In contrast to the heavily male-dominated established parties, two thirds of our group is female. We are proud of all of this.
The reaction of both main parties to last week's events is instructive and underlines for us why we made the right decision. On the Conservative side, I did BBC Radio 4's Any Questions with the Solicitor-General Robert Buckland who was in complete denial about the UKIP-isation of many Tory local associations. If you refuse to even see there is a problem, you won't be able to fix what is broken. On the Labour side, the leader failed to follow the example of his deputy Tom Watson in recognising the reasons we left have validity.
Watson aside, the leaderships of both main parties give every indication they will carry on with business as usual. Shadow foreign secretary Emily Thornberry said the Labour Party would "crush" us "splitters" – spouting the same old tribal nonsense people are so tired of.
Today we will have our first formal inaugural meeting of our group ahead of key votes this week on Brexit due on Wednesday and, possibly, Thursday. Our move last week has emboldened Conservative ministers to support the important amendment being voted on to empower the House of Commons to stop no deal even if it means they get the sack. The resignations of our three former Conservative colleagues has served notice on the prime minister that there is only so much those on the pro-European, One Nation wing of her party can put up with.
Equally, on the Labour side, the prospect of a new progressive, pro-European force has served as the perfect incentive to get the party over the line to support a "people's vote" giving the electorate the final say over what happens over Brexit. We consequently expect to see those Tory ministerial resignations and the Labour Party backing the amendment tabled by Labour MPs Peter Kyle and Phil Wilson which includes a "people's vote". .
We said we wanted to change British politics – it will be a long and arduous road ahead with lots of bumps along the way, but hopefully people can see we have already started to do that.