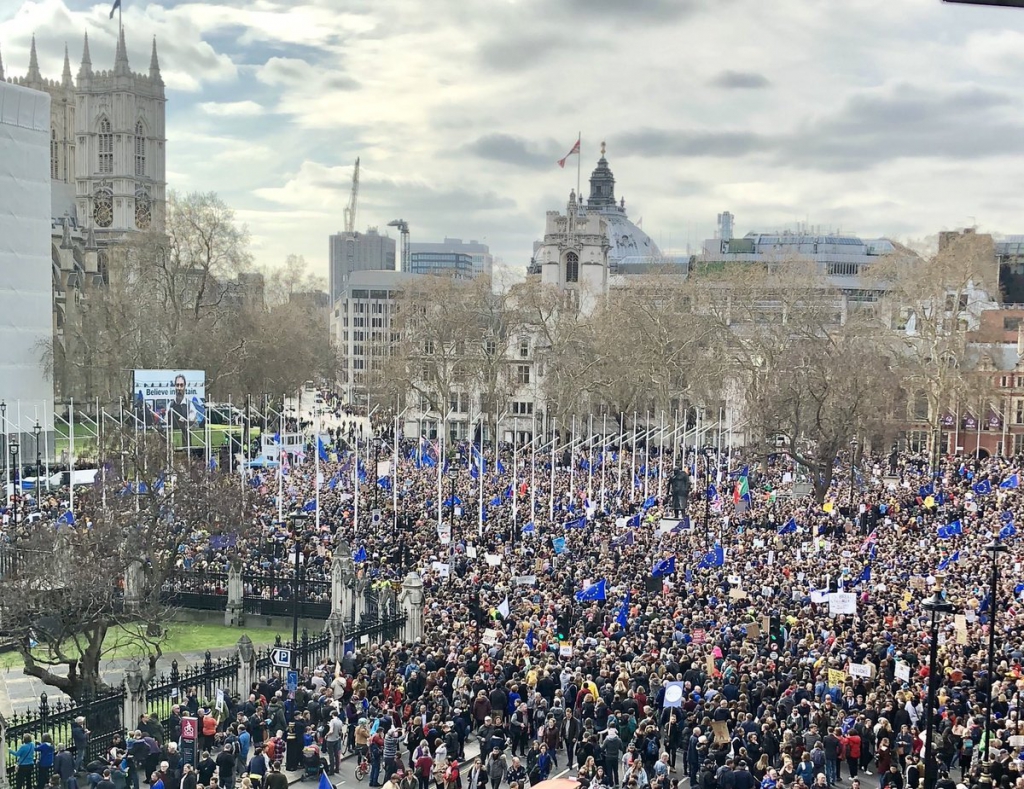 Finally, parliament will likely make a decision on a way forward through the Brexit mess this week. Later today we will be voting to enable the House of Commons to hold a series of indicative votes – likely to take place on Wednesday – to work out where a majority lies on a way forward. This is a process that should have been held months ago when it was clear parliament was at an impasse. Every stage of this process has been described as historic and momentous, so much so that the extraordinary now seems ordinary – but this might be the moment when the mist begins to clear. So here are some observations on my dealings with the various protagonists.
I've had many exchanges with the prime minister in the Commons through the course of this process and met with her last week, along with representatives of the other opposition groups. She is always polite and courteous but doesn't really listen, and ultimately she has never properly provided the leadership the country requires.
Through every twist and turn, in public and in private, you can see the cogs going around in her brain trying to work out what she can say which will offend the least number of MPs in her own party. Her life is the Conservative Party and keeping her party together has always been the priority. But to lead sometimes involves displeasing people on your own side, not least because putting the national interest before any tribal, party interest will at times necessitate it. Other PMs have risen to the occasion when the moment demands it; this one has visibly shrunk from it.
The leader of the opposition and his team have a constitutional duty to provide a coherent, strong alternative to the sitting government. Clearly Jeremy Corbynprivately wants Brexit to happen but does not want to carry the responsibility for it, so constructive ambiguity has been the way. We are not at all clear whether publicly the official opposition wants to stop Brexit or would prefer to deliver it through an alternative deal – the prevarication is quite deliberate. If they do want Brexit to happen, who knows when they want it. If they ever properly swing in behind a people's vote, we have no idea what they think should be on the ballot.
Corbyn has previously whipped his MPs to vote against the UK being part of the single market and now indicates he is warming to the idea – if so, does he now support free movement continuing, something he previously has opposed outright? His Brexit policy is a joke – it is all over the place. What is clear is that given this is a hung parliament, Corbyn could have provided the leadership to stop Brexit, or at least stem the tide of chaos which has followed – he has not only failed to do so but has contributed to the chaos and won't be able to avoid blame for it.
Most frontbenchers of the established parties have been keeping their heads down and certainly are not prepared to forgo their jobs on this issue, however misguided they believe May and Corbyn to be. I've lost count of the numbers on each side who have told me they believe their leaderships are in totally the wrong place on this, the biggest issue facing parliament since the Second World War, but in spite of it are not prepared to rock the boat. The ones that did feel strongly about it and were prepared to put their necks on the line resigned from the government, or were sacked from the opposition frontbench for rebelling on votes some time ago.
Some frontbenchers argue they have more chance of influencing Brexit policy from within but the evidence to support this is lacking, and they know it – one cabinet minister complained to me about Theresa May running things like some dictator, saying she refuses to listen to anyone, and at the same time telling me they could influence her so as to justify holding on to the ministerial car and their office. At times like this, our constituents expect people to put country before career – too few have chosen that course in this parliament.
Much of the action has been on the backbenches, which have come alive this parliament. If it were not for former attorney general Dominic Grieve's amendments to Brexit legislation, parliament would have had no meaningful votes on the PM's deal. Speaking in the Commons last week on Mrs May's handling of Brexit, he said, "I have never felt more ashamed to be a member of the Conservative Party or to be asked to lend her my support."
Thanks to former Conservative cabinet minister Caroline Spelman and Labour's Jack Dromey, the Commons has passed motions rejecting leaving the EU without a deal. Anna Soubry and I, both now members of The Independent Group of MPs, tabled amendments to legislation forcing the government to publish its economic impact assessments of the various Brexit options compared to remaining in the EU, and we forced them to publish cabinet briefing papers on the impact on business and trade of a no-deal Brexit.
The SNP's Joanna Cherry, Liberal Democrat Tom Brake, The Independent Group's Chris Leslie and others even brought a court case to the European Court of Justice, which they won, to establish that the UK can unilaterally revoke Article 50 – over 5 million people have since now signed a parliamentary petition calling on the government to do just that.
And this week, a cross party coalition of backbenchers – which The Independent Group is part of – is pushing through measures to force the Commons to hold a series of indicative votes on the various Brexit options with a view to identifying where a majority lies. Many on the backbenches have done our democracy proud during this process and have taken a lot of flak (including death threats, abuse and a lot else besides) for doing so.
Finally, what of the small band of hard Brexiters in the Commons who make up less than a quarter of the 650 MPs? They can point to no such successes on the backbenches. Several were part of May's administration for much of this period, and now criticise the UK's negotiating team of which they were a part. They keep invoking the will of the people – as expressed by 37 per cent of the electorate three years ago – whilst ignoring the fact that there is clearly no majority support out in the country, never mind in parliament, for their type of Brexit or the PM's deal. They were the architects of this mess, blaming everyone but themselves, for the fact that the impossible promises they made and lies they told have been exposed every week since the original EU referendum in 2016.
Worse still, not only did they lie but the Electoral Commission has confirmed that Vote Leave cheated too – and yet still they refuse to accept responsibility. When the history books are written, one thing is certain: they, in particular, will be condemned to the worst write up of all and rightly so.