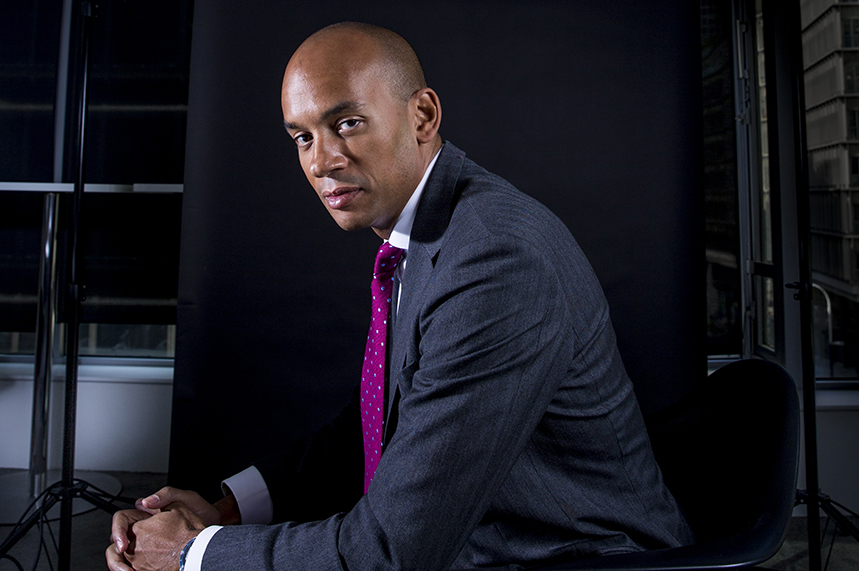 Chuka Umunna is in a cheerful, contemplative mood as he discusses the latest chapter in his eventful career via video from the office of his new employer, Edelman UK.
The former politician, once tipped as a future Labour Party leader, seems happy in his new life leading the environmental, social, governance (ESG) offer at the agency he joined in July. His role includes advising business leaders on ESG 'audits', embedding ESG factors into decision-making, strategy and culture, and managing ESG issues relating to corporate transactions.
The contrast to the frenzied nature of his year in 2019 is stark. Alongside fellow Labour MPs – among them his new Edelman colleague, Luciana Berger – and Tory rebels, Umunna triggered something of a political earthquake when he quit Labour to be one of the founders of anti-Brexit centrist party The Independent Group (later Change UK) amid criticism of Jeremy Corbyn's leadership of Labour. He joined the Liberal Democrats after Change UK's demise and failed to be elected MP for Cities of London and Westminster in the General Election.
The 41-year-old's latest challenge marks a return to the corporate advisory world for Umunna, who worked as a solicitor in the City of London before becoming MP for the south London constituency of Streatham in 2010.
Umunna, who served as Shadow Secretary of State for Business, Innovation and Skills under Ed Miliband, was seen as residing on Labour's right wing; not instinctively antagonistic toward business, but wary of the excesses of totally unregulated capitalism. This, coupled with his legal and corporate advisory background, makes him an intriguing appointment for a role at Edelman that is growing in importance in the age of corporate purpose and heightened social activism.
Umunna declined to discuss his recent political experiences or critique specific politicians, so unfortunately our conversation yielded no revelations about Corbyn or Change UK, or the strategies of current political parties. What it does reveal are fascinating insights from a senior political insider's perspective as we talk about the nature of ESG and how PR firms have adapted to the new reality – which, he says, has been "turbo-charged" by COVID-19, the Black Lives Matter protests and other movements. Linked to the theme of this edition of PRWeek, and as one of the most high-profile BME figures currently working in UK comms, Umunna also reflects on his experience of racism.
What was the background to you joining Edelman UK?
It was never my intention to serve as a 'lifer' in the House of Commons. Having spent, I suppose, just under a decade working as a corporate employment lawyer working at the coalface of the 'S' and 'G' part of ESG – the social and governance side – and having done a decade holding a variety of senior positions on the opposition benches leading on policy directly related to ESG, I wanted to return to doing financial services and capital markets work, but doing ESG advisory work. Because that, in essence, is what I have been doing as a practitioner, and as a public policy person, for the best part of two decades.
It was very much on the horizon, actually, before I left the Labour Party. It seemed to me that if you wanted to build an ESG consultancy, Edelman was definitely the firm to do that and was in pole position to build something new and successful. It has done some pretty substantial work for firms on ESG.
The conversation [with the agency] started way back in January, not necessarily on either side with a view to me joining Edelman. I knew [EMEA chief executive] Ed Williams already, so I had a conversation with him about the next steps, post-politics; and that ultimately led to me – very quickly, actually – coming in and meeting some of [Edelman's] UK leadership. In so far as ESG was concerned, there was a complete meeting of minds, and since then very much a kindred spirit, and a partner in arms, had been appointed to lead the ESG offer across the Americas: Heidi DuBois. We've been globally co-leading the ESG push for the firm. What I've been struck by is how international the work is. I've already been working on pitches with several of our offices.
There's been a huge growth in this area in recent years. What's your take on it?
The first speech I gave as Shadow Secretary of State for Business in 2011 was to an audience at Bloomberg, where I was making the case for responsible capitalism and how we foster an environment in which companies deliver shared value – value for shareholders, but also other stakeholders in society, and a sense of mutual dependence between those things.
We were lambasted, as you would expect, by our political rivals at the time for being anti-business, but also by a number of leading figures in business for being anti-business – for suggesting you should take into account the wider group of stakeholder interests when making business decisions.
I particularly remember going to the house of a City grandee in Kensington that had been organised for [then-Labour leader] Ed Miliband and myself. A group of around 15 CEOs, chairs of companies and leading financial institutions were there, and they gave it to us with two barrels for daring to question the consensus around the primacy of shareholder value. We were told how we didn't understand it, we didn't get it. I remember coming out after the dinner and I saw a group of people outside the front of the house and I immediately thought they were photographers, so I was on my guard. But actually it was the chauffeurs of the fleet of cars that had brought the young business attendees to the house.
It did make me think: for all the claims that we didn't really know what we were talking about, these people… I'm sure some of them have come from quite humble beginnings, but they are leading a life which is very different from many people, and if anybody might be out of touch it might possibly be them.
The Brexit referendum result… was quite an epiphany for a lot of them. I had a lot of them say: "We thought we were in touch with our customers and our employees, but actually you were right, we do need to change the model of capitalism because it's not going to bring enough for people and they are very angry." Now, some of the very same people who attended that dinner, you can read op-eds by them – and no doubt see quotes from them at this year and last year's Davos gatherings – and they're making the case for stakeholder capitalism and now what people call ESG.
So I think circumstance, public anger at the system of globalisation that has, admittedly, lifted hundreds of millions of people out of poverty in the developing world, but in developed economies hasn't delivered the goods for enough middle- and lower-income families… that has led to a reassessment of how we do business.
And that has been turbo-charged by COVID-19, it's been turbo-charged by the aftermath of [the killing of] George Floyd, and arguably before 2020… the Me Too movement and Extinction Rebellion also came to change the context in which we're all operating.
What do you make of how some corporations and brands have reacted to these challenges in practice?
First of all, do you have a choice to intervene and speak up on debates in your country that affect your customers, employees and other stakeholders in a profound way? Our Trust Barometer data shows you do not have a choice any more – there's an expectation that CEOs and companies should speak up on certain issues because people buy into the value and also the values of your brand and your company. And the data's got stronger throughout the pandemic. That's the first point.
The second point is that when you intervene, you have to have credibility and authority and, ultimately, trust in order to intervene effectively.
I'll give an example of where this can sometimes go wrong. Nike, in the aftermath of George Floyd, was pretty vocal in its demand that we need to change the way we do things in society and promote greater race equality. But immediately, of course, people looked at Nike's board and saw it was an all-white board and it wasn't very diverse – and that's for a brand many people would argue has associated itself with Black culture for a long time.
When you do intervene and do things? You've got to be able to show, where's the beef? And that's where ESG is important, because if you can not demonstrably show how you've integrated other stakeholder factors into decision-making it undermines your credibility. So all of the world events, and the context in which we've been operating, has given a lot of urgency to companies sorting out their ESG profile. That's pretty big.
The third thing is, recent events have certainly shone a light on inequalities in a vivid way, partly because we've got the technology and social media that really brings these things into view in a way that I don't think we've seen with previous crises.
The exacerbation of inequality that will have come with the pandemic, potentially, will make us an even more polarised and divided country… and you could probably say the same in the United States too. That's going to be very tricky terrain for corporates to navigate. That said, I definitely think lessons have been learned by business from the way in which they dealt with the last crisis, which was to try and carry on – particularly in the financial services sector – as if they can just return to business as usual. I think there's a recognition that things are going to be different and there's an added sensitivity.
So if you are, for example, a corporate that has benefited from state financial support, like through the furlough scheme, and then 12 months down the line you attempt to do a share buyback, a dividend payment, or you put in place what is perceived to be a very generous pay package for your corporate leadership, that is going to be extremely controversial. And that's just for starters.
When you were in politics, how much cynicism was there about this kind of thing among politicians?
A lot of ESG actions were lumped in with corporate social responsibility and often were perceived to be PR exercises as opposed to something more substantial. The interesting thing in the last few months is that in major businesses and professional services organisations, you've got people moving from core parts of the business into ESG and/or sustainability leadership positions, which illustrates how important and fundamental to most of these businesses ESG has become. It's become much more threaded into corporate decision-making. It's not just been used as an add-on: "We do a bit of philanthropy." Philanthropy and CSR have their place and are very important, but this is something most people would agree is a much bigger and more substantial change.
What do you make of the standard of political discourse and political communications at the moment?
My read is that the set of skills and capabilities required in a pandemic are so at odds with what it takes to take high office, and the skills needed to do the role in normal times, that it was inevitable that there were going to be mistakes made and the ship of state was not going to sail calmly, because it's having to sail through incredibly choppy waters.
And, of course, on the one hand you could be a victim of your own success. I think the initial 'stay at home' communication and advice will prove to be among the most effective government communications ever.
But now you've got the flipside of that, which is that we do need people, as safely as possible, to return to work. I'm sitting here in Edelman's office, but I'm looking out onto a ghost town downstairs on the street, and it's pretty quiet. It's a very difficult terrain to navigate. It should become more straightforward for the simple reason that we've got much more data on how this virus is behaving, who it affects, who it doesn't affect.
At the beginning of the pandemic my second daughter was born and we adopted very stringent safety measures. We went straight into isolation as a family, we wiped down everything we brought into the house. We were absolutely on it for every single detail because we were unsure of the impact on newborn babies at that stage, whereas now we know that – never mind newborns, [with] children more generally – figures would suggest the risks are nothing like what [we thought] they may have been. That makes a difference.
So, as this thing evolves, hopefully we're in a better position to tackle it – and the same could be said of the Government.
Has the 'revolving door' criticism (of ex-politicians who move straight into corporate jobs) come your way much, and what do you make of that?
I haven't had it at all, funnily enough. I think [there are] a couple of reasons why. I came from a City background – I went from university to a City law firm working for big multinational companies, and so it's not as if I went from politics into the corporate world having not been there before. And secondly, in my work, the public affairs part of what I do is minimal.
Do you have any reflections on racism and diversity, and your own experiences that inform the way you look at these issues?
I don't really want to talk about the industry, because my only experience is Edelman, and it wouldn't be a true reflection of the industry as a whole. But I would say that generally, I don't think that you can disentangle issues of race from issues of class.
Sure, I've faced obstacles, I've faced racism, but I think my experience as somebody – a mixed-race guy [with] a middle-class background – is going to be very different relative to somebody who came from my father's background – a Black, Nigerian, working-class guy. I think to just see the race issue, the obstacles it presents to people, in isolation from class issues doesn't really do justice to the injustice that there is.
When I started my career in the City in the early 2000s I was at a progressive City law firm which has generally been in the vanguard of these equality issues, in my view. And I have lots of affection for Herbert Smith [Freehills, the international law firm where he worked from 2002-2006], but there were 600-700 fee-earners and I was one of three Black people when I left. To be frank, I think there's been quite a bit of progress since, but, my gosh, across all those different professional services disciplines, I think there's some way to go.
I'm proud to be led by Richard Edelman, for whom this is a big issue. He has made some pretty concrete commitments about what we are going to do as a firm to make sure we look like the communities we wish to speak to and interact with for our clients.
What are your expectations for the Edelman ESG offer? Do you have concrete goals for the future?
At the moment the practice is led out of two hubs: London and New York, which is unsurprising because it's rooted in capital markets and financial services work, and those are the two main global financial services centres.
We are adding to the team literally week by week because of the interest that there is. The ambition is that we build a market-leading ESG consultancy practice, which is global.
If a year on from now we've got a fully functioning, fledgling consultancy operating globally, led out of the two main hubs, with capability in every major financial centre in the world, then I think we'll be very happy.
How is PR different from your expectations?
It has been really fulfilling, returning to a global professional services firm and working with some incredible minds for some brilliant clients.
I kind of feel a bit guilty for saying it, but I haven't looked back and thought: "Oh my God, I really miss what I did before." As I said, it was a privilege to serve, but I really don't miss it.
A return to politics is not very likely, then?
[Laughs] People say: "Never say never," but I can honestly say that I can never envisage that happening. I've done that.
You have a particular shelf-life in politics and I think it's important that politics refreshes itself with new people, and that should not be one where figures from previous eras come back.
I've started a new chapter and I don't want to go back to the old one.
This article originally appeared in the 15 September 2020 edition of PR Week UK.