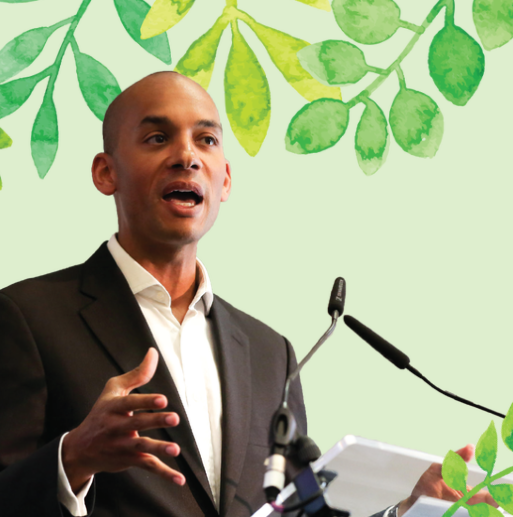 Chuka Umunna could have been prime minister. After entering parliament as MP for Streatham in 2010, he was rapidly promoted to shadow secretary of state for business in 2011. Following a four-year stint on the front bench, the former commercial lawyer was one of the frontrunners to succeed Ed Miliband as Labour leader in 2015.
But almost as soon as Umunna's leadership campaign had started, it was over. He pulled out of the race with little explanation, and the leadership was eventually won by the outsider, a socialist MP called Jeremy Corbyn.
In the next four years Umunna, and the Labour Party, struggled with Europe. Indeed, just four months after the election, Umunna resigned from the shadow cabinet citing 'a number of key points of difference on policy' with the leadership. He returned to the backbenches, never to stand at the dispatch box again.
When Corbyn was widely accused of not doing enough for the Remain campaign in the run-up to the 2016 EU referendum, Umunna was on the frontline sticking the knife in. It was the hill his career in politics would die on.
Umunna clung on to Labour until February 2019, when he departed for pro-European party The Independent Group (later renamed Change UK). But that party did not last long, blighted by gaffes and poor European election results. Four months after joining, Umunna withdrew and joined the Liberal Democrats, standing for the party in the Cities of London and Westminster constituency at the 2019 general election. He came in second, losing to Conservative Party candidate Nickie Aiken. It seemed his political career had hit the rocks.
Fast forward nearly a year, and Umunna appears rejuvenated in his new job as executive director and head of ESG stewardship at communications giant Edelman. He tells New Model Adviser why ESG matters to the man on the street, and what we need to do to stop greenwashing.
How are you finding being back in the private sector?
Well, it was an honour and a privilege to represent the place where I grew up, but I was never going to be a lifer in parliament. I always wanted to return to capital markets and financial services. I was never going to be the person who would determine when that would be – that was always going to be the voters. I'm loving being back in the private sector. The opportunity to build a communications line has been wonderful. I feel very lucky.
What has surprised you about your new job?
Before I was elected in Streatham I'd worked for just under a decade as a corporate employment lawyer. I started my legal career in the City, so the environment is similar.
I'm still a solicitor, I just don't practise. Usually on the deals I worked on, you would have a mixture of disciplines: you'd have the lawyers, the investment bankers and sometimes accountants. You would often also have the communications professionals, so it's been like coming home in a way, I suppose.
What are you actually doing now?
My ESG consulting is a strategic service within the Edelman family of businesses. We do some of the communications work, but the main competitors for the work we get mandates for are management consultancy firms. The interesting thing about ESG is that it is a new professional services discipline, and it can be done out of different settings. The management consultants have ESG units, the big four accountancy firms do as well, we have our own ESG consulting unit as the biggest communications firm in the world, and then you also have some boutique ESG consultancies.
That all sounds very corporate. How does it fit into your past as a politician?
What I would say to Joe Bloggs is that we advise companies on how to integrate ESG issues – in particular, the interests of their customers, suppliers, employees and the communities in which they operate – into the decisions they make. There is an overwhelming body of research that shows it's not just an altruistic thing, it's actually good business because, if you don't look out for the other stakeholder interests, it is going to affect your market capitalisation and your long-term value.
That matters to Joe Bloggs because this is where your pensions are invested and your life savings are put. If something goes wrong in a systemically important company, it's going to have a huge impact on communities. That could be your son or daughter.
I'm a capitalist but there are different varieties of capitalism. The model that we've had over the last two to three decades has not benefited enough people
How has awareness of ESG changed in the corporate world?
Nine years ago when I first started as shadow secretary of state for business, I was prosecuting the whole responsible capitalism argument in the House of Commons. At that time ESG was often conflated with corporate social responsibility (CSR). It's not that CSR isn't important, but ESG is now being taken far more seriously. You have people who are responsible for core parts of financial institutions' business now who are taking responsibility for ESG because it's so fundamental to corporate and investor decision-making. For investors, it's seen not just as a proxy for prudent risk management but for good management overall.
It's interesting you mention pensions. What do you think of pension minister Guy Opperman's plans to get people investing sustainably through their auto-enrolment schemes?
It's brilliant. One of the good things about this area is that there's not much party politics in it. If you look at the pension bill that went through the House of Commons three weeks ago, the opposition and government worked very closely on it, which now means that pension providers of a particular size will have to take into account the Task Force on Climate-related Financial Disclosures and say what they are doing in that regard. I think it's a big step forward.
Does it restore your faith in capitalism?
I'm a capitalist but there are different varieties of capitalism. The model that we've had over the last two to three decades has not benefited enough people. If you believe that ultimately this system – as opposed to a command-and-control ultra-socialist model – is going to produce more prosperity for more people, you have to make sure you have a better model that delivers for more people. The allocation of capital isn't just something that can be directed by the government.
The Treasury was forecasting before the pandemic that, in the UK alone, reaching the official commitment of getting greenhouse gases to net zero by 2050 would require £1tn of investment. That's around £70bn every year. That's not something the government alone can do. You need the private sector to step up and work in partnership with the state to reform the economy. The way that pension funds are invested is a vital part of that.
Are you concerned that consumers might take terrible risks under the guise of 'sustainable' investments?
It's about communication but it's also about good regulation. I do not think that impact investing necessitates taking on greater risk, and actually what the pandemic has shown is that corporate issuers with good ESG profiles have proven much more resilient. We represent more asset managers in terms of total assets under management than most of the strategy communications firms, and that is what they are telling us: the corporates they are invested in with good ESG profiles are the ones that have looked ahead, planned for different scenarios and planned for shocks. In that sense they are lower risk than companies with bad ESG profiles that are much more focused on the fast buck.
The success of ESG depends on asset managers committing to ESG in their funds, though. How do we stop greenwashing?
The increase of flows into ESG funds is very much to be welcomed. Do we need to guard against greenwashing and sort out the standards and frameworks that apply?
Yes. I think it is really welcome what the EU is trying to do with its ESG taxonomy, to ensure that green projects and businesses are what they say on the tin.
Where I am concerned, and where some of our clients in this area are concerned, is that the taxonomy doesn't account for projects where you are taking a brownfield building and greening it. It tends to focus much more on the knocking down of buildings and their green replacements, as opposed to facilitating transition. Classification and disclosure requirements are absolutely key to help guard against greenwashing.
Is a framework needed to help fund managers spot bad eggs such as Wirecard and Boohoo?
Boohoo is illustrative in some senses of how you shouldn't rely on ESG ratings agencies alone. And secondly, that in some situations, without referring specifically to Boohoo, just because managers have not picked up on things doesn't mean there's bad stewardship. It seems in the case of Wirecard that there was fraud and lying happening on an industrial scale. Whatever stewardship framework you apply, if somebody breaks the law and lies, it's quite hard to pick up on these things.
Boohoo just shows that you can rely on artificial intelligence and data scraping all you want, but you have to put in the hard yards in terms of engagement with a company to really see what is going on.
Let's talk about diversity. What do you think about Legal & General's (L&G) recent threat to vote against FTSE 100 peers lacking board diversity?
If the question is: 'Does not having their own house in order disqualify them from taking action to help bring about change in other companies?', I don't think it should preclude them from making demands of other corporates. Obviously there's a problem if they are sitting on their hands and not doing anything about their own performance, but I actually really welcome what L&G said.
It's a good thing, and I don't think the fact that it is not perfect should stop it from bringing about change in its own backyard. If it is honest about its failings, I don't have a problem with it. If it does not confess to shortcomings, I have a problem.
Do you support diversity gap reporting?
Absolutely. There are lots of really great initiatives. Capstone Investment Advisors president Jonathan Sorrell's #100blackinterns initiative is absolutely brilliant. That's not me speaking for Edelman, but the company is a very progressive, family-run firm. Richard Edelman's been very outspoken about these issues. It's a personal opinion but I would be very surprised if anyone at Edelman disagreed with me.
What is your stance on pandemic redundancies as an ESG consideration?
I would not want to comment on the commercial decision to furlough or make staff redundant, or cut pay or hours, because that is a decision for the board and executives at each company. That said, speaking as a former emplomyment lawyer, it is important that you allow the right processes and that you communicate with your staff.
One of the reasons that corporate communications has been busier than ever in this space is because companies – our clients – have been keen to get the communication right with their employees, particularly when so many people are working remotely. I always say that, when it comes to communicating with staff in the context of Covid-19, you can't really do too much of it.
When it comes to communicating with staff in the context of covid-19, you can't really do too much of it
Is that about honest conversations?
It's absolutely about honest conversations. I always found during my time as a corporate employment lawyer that the more you shared the situation and the context behind your decisions with employees, the better. It's not to say that there won't be disquiet and, of course, huge worry and disappointment if you're at risk of losing your job, but if people understand the context in which you're making that decision and can see that there's a fair process, it makes the situation easier for everyone. Where you withhold information unnecessarily, that's where you can run into even bigger problems.
Who is your hero in corporate communications?
There are lots of examples I could give, and I wouldn't want to pick one example of stewardship because we act for firms who collectively have $10tn in assets under mangement. I have yet to see bad stewardship among them.
On the corporate side, one of the best pieces of communication I've seen in the Covid-19 crisis was the memo sent out by the head of Airbnb to his employees explaining why the company was going to have to let people go. It was really excellent.