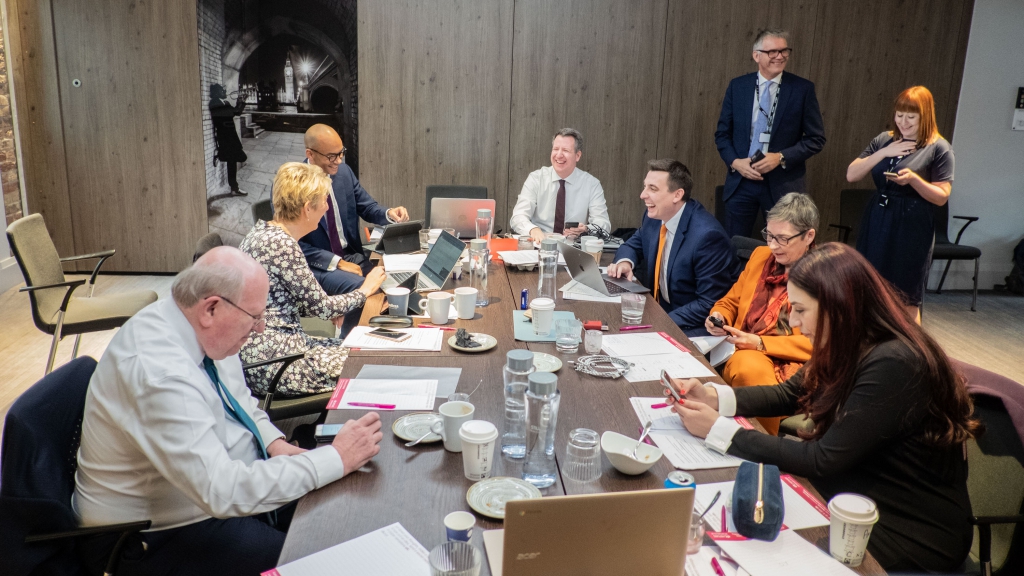 Today I, along with several colleagues, took the painful and hard decision to resign my membership of the Labour Party which I joined 22 years ago. This has been one of the most difficult decisions I've ever had to make in life, but it's the right one.
As I said in my speech at our event announcing our decision, the values which have driven us to take this step are shaped by who we are, where we are from, and our experiences.
I am of mixed heritage – a quarter English, a quarter Irish and half Nigerian. My forebears came to this country driven by the hope and optimism that if you put in the effort, you can get on and lead a good life in Britain. My father arrived from Nigeria with no money and worked his way up to become a successful entrepreneur. In spite of the prejudice he experienced, the platform this country gave him to succeed was Britain at its very best.
But we've had our ups and our downs. He, the only breadwinner in the family, was killed in a car crash when I was just 13. His death taught me that regardless of your circumstances, people need one another. We want our families to get on in the good times; but we need to support each other through the bad times.
Too many face barriers in fulfilling their dreams and potential in modern Britain and people do not get the support they need. We believe it does not have to be this way – fundamental change is needed but Labour can no longer be its agent.
In light of what we have witnessed these past three years, I do not support the Labour leader taking the office of prime minister of the United Kingdom, nor do I have confidence in him and his team to make the right decisions to safeguard our national security.
The party's collective failure to take a lead and provide sufficiently strong, coherent opposition to Tory government policy on the UK's relationship with Europe, with all the adverse implications this poses for the working people of this constituency, is a betrayal of the Labour interest and Labour's internationalist principles. This started with the leadership's halfhearted effort to campaign for Remain in 2016, followed by its refusal even to commit to the UK staying part of the single market and now its offer to facilitate a Tory Brexit. So many families in my constituency, like me, have relatives from EU countries and feel grossly betrayed by the party.
I support the liberal, international rules-based order underpinned by Nato, which Clement Attlee and Ernest Bevin were instrumental in establishing in the wake of the Second World War. This demands the UK plays an active role on the international stage. Through its lukewarm attitude towards Nato, reluctance to act where necessary, and willingness often to accept narratives promoted by states hostile to this country, the party's leadership has turned its back on this history.
Since before the last election I have made it clear in my public interventions that I had differences with the leadership of the party on these issues, so much of this will not be news to regular readers of this column. There is no doubt these differences have become much more pronounced since then.
Above all, I have observed with great alarm the changing culture within the party. Visceral hatred of other people, views and opinions – something completely contrary to progressive values – is now commonplace in the party. Bullying behaviour by supporters of the leadership on and offline is tacitly sanctioned.
I have been ashamed of the antisemitism which has been allowed to percolate through the party at all levels. Not only does it fly in the face of the party's history of fighting racism but it has revealed attitudes which are anything but respectful, liberal or open minded. I no longer wish to be part of such a culture.
This, however goes far beyond the Labour Party. These last few years have shown all the established, main parties are simply not up to this challenge. They can't be the change because they have become the problem.
They have failed to provide the leadership and clear direction which the UK desperately needs. They are deeply divided. They have failed to fulfil their duties with the competence the public rightly deserves. They have put their own party political interests before the national interest. They do not represent the complex tapestry which is modern Britain.
There are those who say there is no alternative. That we are doomed to be saddled with the same old politics. That we have to settle for voting for the least worst option or simply to make sure the other lot don't get in. That no matter how incompetent they are, we have no option but to vote for them. We reject this.
When our democracy is failing, the British people have overcome the hurdles to build a better future. Over history we demanded elected MPs take precedence over unelected Lords. We insisted working men and women have the vote. We said our parliament should look more like the country in terms of gender and ethnicity. And now we must change our politics again. 
It is time we dumped this country's old-fashioned politics and created an alternative that does justice to who we are today and gives this country a politics fit for the 21st century – not the last one.
So we have taken the first step in leaving the old, tribal politics behind and we have invited others who share our political values to do so too. They may come from a Labour background but they may also come from other political traditions.Yes, it's a difficult decision but you do not join a party to spend years fighting those in it; you get involved in politics to change the world. We invite them to leave their parties and help us forge a new consensus on way forward for Britain.
We will sit together as an Independent Group of MPs in the House of Commons from here on.
If you're sick and tired of politics-as-usual, well, so are we. That is why we have done what we have today – and why we commit to doing things differently. We don't have all the answers. So we'll treat people like adults and be honest about the tough choices facing the UK.
Building a new politics cannot be done in Westminster, so we want to invite you, the British people, to join in this endeavour – if you want an alternative, help us build it. The bottom line is this: politics is broken. It doesn't have to be this way. Let's change it.