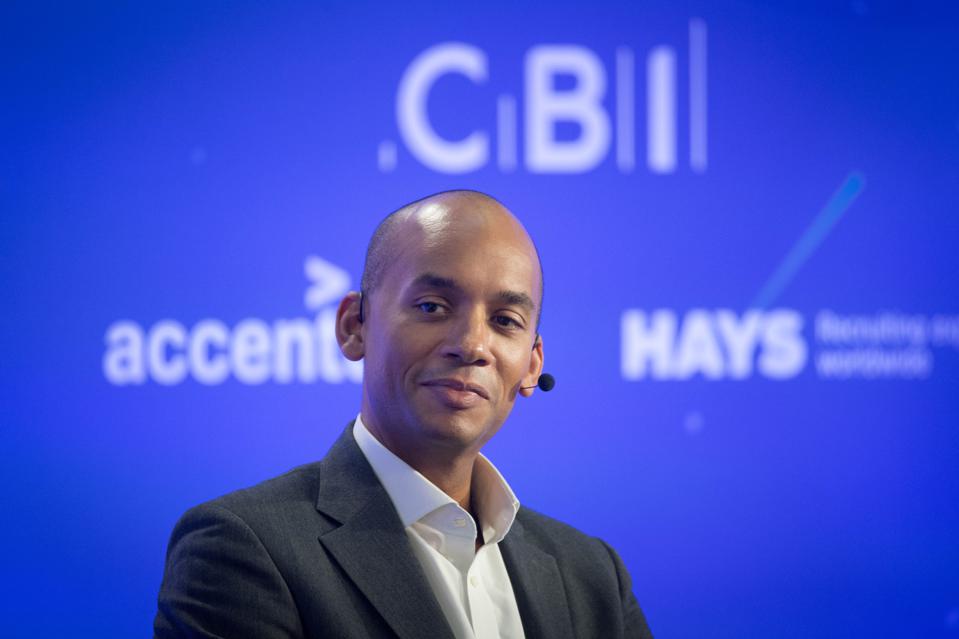 Chuka Umunna was once considered one of the brightest rising stars in British politics, regarded by many of his fellow parliamentarians as a future Labour Party leader and even potential prime minister.
The former shadow business secretary and MP for Streatham was the bookmakers' favourite to succeed Ed Miliband during the 2015 Labour leadership contest.
His decision to withdraw from the race, which was later won by Jeremy Corbyn, shocked political commentators. But Umunna said at the time he was uncomfortable with the increased level of scrutiny and attention the job would bring to him and his loved ones.
Looking back, the experience proved to the 42-year-old that politics can be a rough sport and that it wasn't a career in which he wanted to spend the rest of his life.
"I knew soon after I joined the House of Commons I was never going to be a lifer," says Umunna during a video call from his London home.
"I wasn't going to retire there or do a long service like Ken Clarke. When I entered politics, I didn't have a young family and I wasn't married. Politics puts an unfair burden on your family and I knew it wouldn't be a long-term proposition for me."
After bowing out of the Labour leadership contest, Umunna spent another four years in the party before leaving to form the centrist and pro-Europe Independent Group in February 2019 with seven other Labour MPs.
But the defection was not to last long. Just six months later, Umunna was on the move again, announcing he would vacate his Streatham seat to fight for the Cities of London and Westminster constituency in the 2019 general election for the Liberal Democrats.
Having failed to win the seat from the Tories – Umunna lost out by just under 4,000 votes – the decision to leave politics was made for him.
"A lot of people spend their lives trying to get into the House of Commons, and I was lucky to get in at a relatively young age. But I think you do have a certain shelf life and be prepared to pass on the baton," he says.
It wasn't long before communications giant Edelman came knocking on his door with an offer to lead its ESG consultancy for Europe, the Middle East and Africa.
Instead of speaking to constituents, Umunna's day is now filled advising corporate clients across the globe about how to incorporate ESG. He has been in the job for less than six months, but admits he is already working "flat out".
"If it wasn't for lockdown and the pandemic, I would have spent a quarter of my working month on the road," he jokes. "I've met half of my colleagues face-to-face."
Luciana Berger, the former Labour MP who helped establish the Independent Group with Umunna, is once again a colleague. Berger joined Edelman a week before Umunna to lead its advocacy and public affairs team.
Umunna is no stranger to the City. Before embarking on his political career, he worked at Credit Suisse in an anti-money laundering role and completed a stint in the back office of the equity derivatives group at JPMorgan.
But it was the decade he spent as a corporate employment lawyer at Herbert Smith, now Herbert Smith Freehills, where Umunna got his first taste of some of the work he is now undertaking at Edelman.
"At Herbert Smith I was on the front line of the S and the G and advised companies on employment law issues, mostly M&A work," says Umunna.
Umunna also spent time on parliament's influential treasury committee, elected to the role by his Labour colleagues who were keen on someone with a City background, and could sit on such a prominent forum in the wake of the financial crash.
"There was a feeling they needed someone being on the committee as a Labour member, but who also understood business and how the City worked," he says.
"There was a lot of discussion at that point about culture and behaviour in banking. I had worked on the service agreements of the C suites at some of the big investment banks. So I got to work as a practitioner on the S and the G."
Umunna is adamant he has "absolutely no intention" of returning to politics, believing he can make more of a difference in the corporate sector than from within parliament.
"I don't miss it," he says.
"You have as much capacity to affect change in a private sector setting as you do in the public sector, partly because nation-state governments have become emasculated with globalisation., he says. "Capacity as a middle-ranking minister in a government of a country with 65 million people to do big change — given these big cross cutting global currents — is much more limited."
He points to his friend Nick Clegg as a case in point. The former Liberal Democrat leader and deputy prime minister left politics in 2018 to take up a global affairs role at Facebook.
"Whatever you think about what Nick has done joining Facebook, I think he has more influence in his role as one of the core people driving Facebook than he did as deputy prime minister of the UK," says Umunna.
Umunna says the argument for stakeholder capitalism has only strengthened in the years following his stint as shadow business secretary, when just a handful of business leaders such as Lazard's Ken Costa and Dominic Barton at McKinsey were making the case.
"I remember going to a dinner with CEOs and chairs of FTSE 100 companies at a City figure's house with Ed Miliband. He got a roasting from those in attendance, who accused him of being a Marxist for arguing for a more responsible capitalism," recalls Umunna.
"What is amusing now is the very same people are now rocking up at Davos talking about stakeholder capitalism or writing op-eds about it."
One reason Umunna may be so busy is that Covid-19 has "turbo-charged all three strands of ESG", he says.
"Even before the pandemic, there was Extinction Rebellion and the MeToo movement. I don't think it's a moment. ESG is here to stay."
With government Covid relief packages closely aligned to social and environmental goals – Chancellor Rishi Sunak recently announced the roll out of the UK's first sovereign green bond — Umunna sees a big opportunity for financial services.
"If we have data that irrefutably shows ESG is a powerful driver of alpha, it will attract more inflows and we will get the capital allocations we need to address the world's problems," says Umunna.
One problem Umunna argues needs to be addressed is the woeful lack of ethnic diversity across financial services.
He recently threw his support behind the 10,000 Black Interns initiative, which sees UK companies committing to offer 10,000 internships for Black graduates over the next five years.
Former Conservative prime minister David Cameron and Labour peer Baroness Amos have also backed the plan.
"If you work in this world, you can take for granted the experience and the global nature of it. But if you're a kid who's never been in that environment, being in that world for an hour can make a massive difference," he says.
Umunna got his first taste of the financial sector visiting the equities trading floor of Goldman Sachs in New York as a 13 year old, thanks to a family connection.
Later that year Umunna was back on the trading floor, this time at UBS in London as part of a school trip.
"It was then I realised I wanted to work in the City and that environment," he says.
"It's tangible stuff that can change people's lives."
CV
Born
17 October 1978
Education
2001-2001 Nottingham Law School, Legal Practice Course
1997-2001 Manchester University, Law
Career
2020-present Head of ESG for EMEA, Edelman
2010-2019 MP for Streatham. Various parliamentary roles, including member of Treasury Committee and Shadow Secretary of State for Business, Innovation & Skills.
2006-2010 Lawyer, Rochman Landau
2002-2006 Lawyer, Herbert Smith