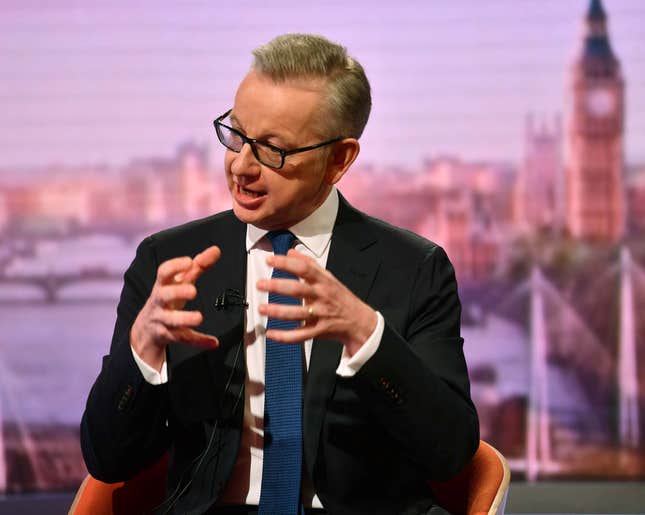 "Form a line here" is plastered over today's front page of Metro. "Gove the cocaine hypocrite must quit" is The Mirror's take. Even Michael Gove's former employer, The Times, has "Gove pleads for second chance over cocaine use" as its lead story.
This follows the disclosure that the Environment Secretary took cocaine several times when he was a journalist. The news came from a forthcoming book on Gove by the political editor of City AM, Owen Bennett, which is being serialised in the Daily Mail.
Sometimes stories like these can emerge from an unplanned, candid admission by the subject, which was the case when I admitted seven years ago to having smoked weed as a student (as I said at the time, it's not something I'm proud of).
However, usually it is not something the subject will voluntarily disclose. On this occasion, if you wish to identify the source some say you just ask the question: who benefits, politically speaking?
Often it's just down to good old fashioned journalism, in which case the reporter who uncovered the revelation will not unreasonably earn plaudits and Bennett is a well-respected and popular. But, unless that journalist personally witnessed the offence, they will need to have obtained the information from someone who at least saw what happened or has the evidence to prove what happened. A story like this has to be well sourced to stand up and to avoid a potential libel claim by the politician concerned.
There is no doubt that the story has killed off Gove's chances of succeeding May. Cocaine is a class A drug, the use and possession of which can carry a very heavy penalty. A YouGov poll published today by the Boris-Johnson-supporting Daily Telegraph shows that 56 per cent of the population believes it is not acceptable for someone who has ever taken cocaine to become an MP.
That rises to 66 per cent amongst Conservative voters – and the numbers disapproving are likely to be even higher when surveying Tory members.
As Andrew Marr said to Gove in an excruciating BBC interview yesterday, "the crime that you committed, the maximum sentence for that is seven years in prison and/or an unlimited fine and right now there are people who did what you did who are in prison." Marr did not stop there – he went on to say "there are lots of kids basically who supplied cocaine to people like yourself who have either been stabbed or are dead. Cressida Dick, who's Head of the Met said that people like yourself who have used cocaine on social occasions, middle class parties have blood on their hands."
I am not sure how Gove can ever recover from this.
Johnson is already streets ahead of all the other candidates in the contest, who are now competing for the second spot in the pairing which will go before the Tory rank and file.
The finger is being pointed at former Brexit Secretary Dominic Raab's team by friends of Gove, when it comes to the source of the story. One of his Gove's aides, who is now working for Raab, is accused of leaking the story, a claim which she denies. As of yesterday, Gove, foreign secretary Jeremy Hunt and Raab are vying for second place with 27, 26 and 21 MP nominations respectively.
As an original Brexiter, Raab can expect to pick up support from Gove's supporters rather than Hunt, who voted to Remain in 2016 and has advocated holding a People's Vote on the Brexit deal. One can see the logic and of course the Westminster bubble laps up the intrigue around all of this.
But, is the political soap opera really what we should be focussing on here? I think not.
Of course the environment secretary's illegal drug use is a matter of public interest and should be reported on. However, the bigger issues are whether our drug laws are fit for purpose and why we are failing to get a grip on illegal drugs which cause so much misery for so many.
I have written and spoken about how the demand for illegal drugs from well-off, middle-class people is a major driver of serious youth violence, which Marr alluded to, and how young people and children from the London borough I represent are being used to traffic drugs to other parts of Britain. Behind much of the violence we see locally lies illegal drug markets with all the tragedy, death and destruction that brings.
With Ministry of Justice figures showing a 23 per cent increase in the amount of drugs being found in jail, how are so many drugs getting into our prisons and why is drug rehabilitation so poor? Is drug education in our schools sufficient? Many would argue it is not. And, the Home Office estimates that the illegal drugs market in the UK is worth more than £5bn but the majority of drugs profits end up in the financial system with money laundering by drug barons occurring on a grand scale. Why are they being allowed to get away with it? I could go on.
Reporting on the Gove scandal is understandably sustained – this is now the third day of front pages dedicated to it. But perhaps attention and energy would be more usefully focused on seeking to solve and answer the fundamental issues around hard drugs which are blighting society.