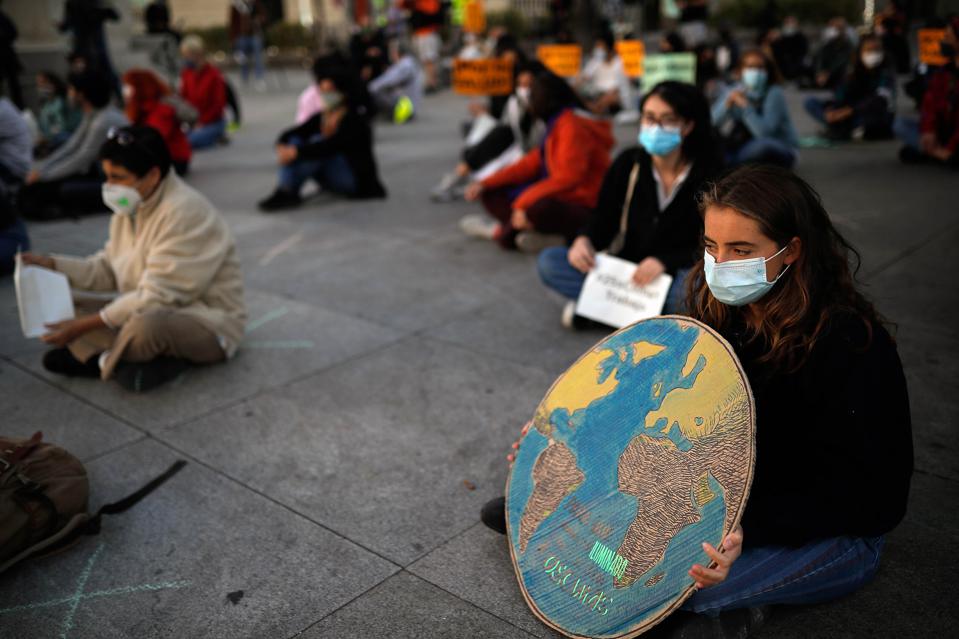 There's no doubt about it – 2020 was the year that the environmental, social and governance (ESG) movement in capital markets and financial services came of age. The figures speak for themselves. Take, for example, ESG bond volumes – according to the latest Refinitiv data they have reached a record high at over $489 billion this year. Research by investment manager Fidelity International reveals that in the first three quarters of 2020 stocks with higher ESG ratings had better returns in every month save for April.
And, after all the talk from corporates and investors, they were undeniably beginning to walk the walk on this agenda. Anne Marie Verstraeten, UK country head of BNP Paribas bank, gave a flavour of the approach being adopted by large banking groups across Europe in the discussion I had with her recently at an event hosted by the Boster Group: "We are integrating ESG criteria into all our operational processes. It requires us to make tough decisions, for example on our lending policies, discontinuing support to the tobacco sector, adopting an exit for thermal coal over time…it has meant we have foregone revenues in the short term."
That is not all. "We have had CSR filters in our credit decisions, and we have installed incentive schemes which govern 20% of the variable [compensation] of 7,000 employees relying on 9 CSR performance indicators" Verstraeten adds. BNP have been deploying these practices for some time – now many others have followed suit in 2020.
There have been six principal drivers of all of this. First, fund flows are increasing with sustainable investment funds surpassing $1 trillion in the second quarter of this year. Deloitte forecasts that ESG-mandated assets could make up to half of all managed assets in the US alone by 2025.
Second, investor activities across the ESG field have accelerated. It started with BlackRock announcing that all of its almost $7trillion assets under management would be governed by ESG considerations. It finishes with the Net Zero Asset Managers Initiative being launched this month with 30 of the world's biggest asset managers – including Legal & General Investment Management and UBS Asset Management – setting the goal of achieving net zero carbon emissions across their portfolios by 2050 with interim 2030 targets. This will surely lead to changes in the operations of the huge number of corporates they invest in.
Third, policy makers are on the move. Mandatory ESG reporting requirements have increased to 600 globally, up from 383 in 2016 when the UN Sustainable Development Goals (SDGs) were adopted.  Up until now Europe has been setting the agenda, with the EU's long-term budget and COVID relief package including increased spending on digital, security, green growth and climate change.
However, the advent of a Biden administration promises to herald changes in the US. For example, Treasury Secretary nominee Janet Yellen co-authored a report with former Bank of England Governor Mark Carney published in October, which said meaningful carbon prices are the cornerstone of an effective package of public policies that should incentivise a transition to net zero, alongside substantial public expenditures in greening economies. This is likely to be reflected in her approach at 1500 Pennsylvania Avenue. Perhaps the most significant government move was by China – the biggest carbon emitter in the world – with President Xi Jinping's administration committing to achieve carbon neutrality before 2060.
Consequently, in its outlook for 2021 JP Morgan Asset Management expects a "flood of green infrastructure projects in the next few years to the tune of several trillion dollars" which will  present significant opportunities for investors.
Next, Covid-19 has clearly intensified scrutiny of companies' ESG performance. BNP's Verstraeten says that with the pandemic "things are now accelerating". She notes that "this convergence towards doing good and investing towards good for the planet, towards society, is now front and centre for everyone." She is right. The pandemic has proved to be a test of whether companies will deliver on past promises – like in the declaration made by the US Business Roundtable in 2019 – to consider all stakeholders, not just shareholders. JUST Capital found that signatories to that statement outperformed their peers on several measures, including on providing paid sick leave and free PPE.
Covid-19 has redirected investor focus on how companies approach social risks, including human capital management and supply chain working conditions. In addition, employee voices are louder, pressing for change in employer policies on issues including employee health and safety, pay, and benefits. Following activism against systemic racism – with the impact of the killing of George Floyd having real impact — investors and ESG rating agencies are pressuring businesses to accurately track racial diversity and make the information publicly available. Good.
Verstraten says: "I don't go to a CEO forum without it actually having on its agenda.. CSR, ESG, how are we delivering on the bold commitments that we have made." In the latest survey of institutional investors by Edelman (where I am the global co-lead on ESG) 72% of investors say they have started to put portfolio investments that do not meet their Diversity & Inclusion thresholds on watchlists.
Finally, younger generations of investors – millennials in particular – are still in the vanguard of this movement. Sustainable investing divisions are said to be amongst the most sought after postings by new recruits joining leading investment houses.
Tom McGillycuddy, 32, from Wigan in the North West of England typifies this generation. "Because I had come from a working class town with working class parents, being the first in my family to go to university, I just thought I needed a career that seemed stable and gave me the opportunity to have money" McGillycuddy explains. So, having worked in a local branch and a call centre of Barclays in Manchester, in 2011 he successfully applied to and joined Barclays' investment bank in London after leaving Lancaster University.
After a couple of years at Barclays Wealth and Investment Management, two competing thoughts were swirling around his head: "It was around the time of Bob Diamond and there were a lot of people in the senior part of the organisation who I was very inspired by – they had a real 'can-do' attitude and were talking about Barclays as if we were going to take over the world" he says. "As a 22-23 year old, who had come from Wigan working in a call centre in Manchester I thought that was the best thing to hear."
But McGillycuddy soon started to question what he was doing and why: "I had this new thing coming into my head, which was me starting to question what the purpose of my work was, what am I really doing here, is there more to this than just earning fees, profit, revenue as the driving and only factor of what we are doing?" This was in 2013 and McGillycuddy observed that "nobody in the industry seemed to be thinking in those terms as far as I encountered – I began to feel slowly detached from what I was doing."
This took McGillycuddy on a journey, via a four year stint in impact investing at Wellington Investment Management, to co-found and launch Tickr in 2019 with fellow Barclays alumni, Matt Latham. Tickr is a sustainable investing platform that makes it simple for retail investors to invest as little as £1 a month. Tickr invests their customers' monies in various sustainable funds and customers get to choose from investment themes including "disruptive technology", "equality" and "climate change". They have plans to create their own exchange traded funds into which they will invest customers monies in the future.
Having launched in mid-2019 Tickr is now already approaching 100,000 customers, who put in £180 on average every month into their investment pot. By the end of 2021 Tickr expects to be investing hundreds of millions of pounds for customers – 99 percent of them are millennials. This is what the future looks like – expect to see a lot more action from the next generation in 2021.