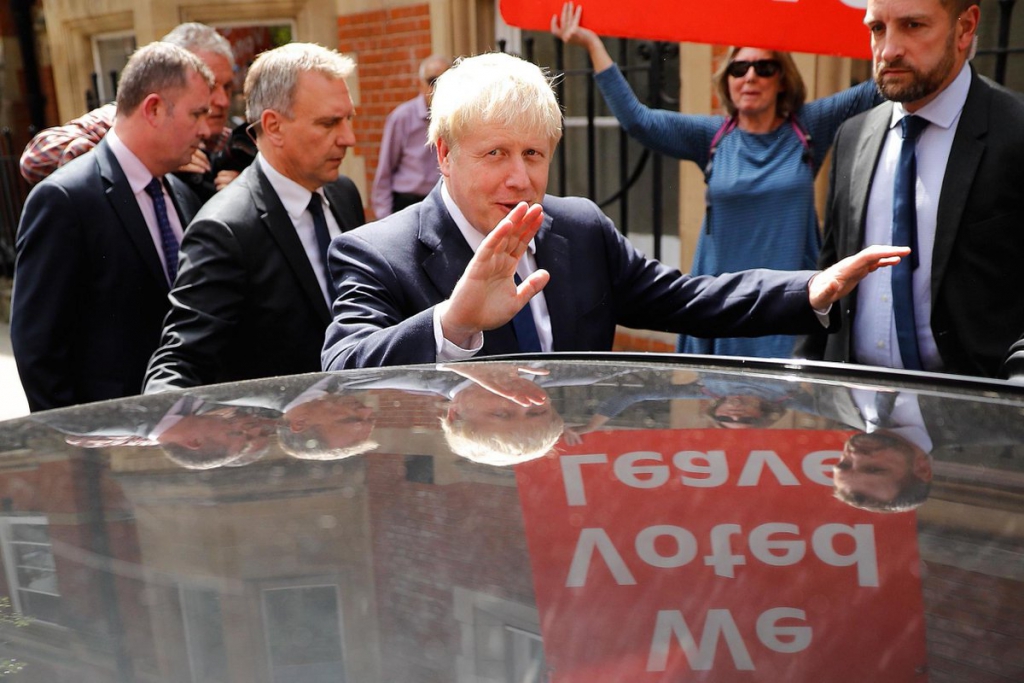 Since writing last week, more and more details pour forth of Tory plans not only to ram through a disastrous no-deal Brexitbut also for a "people versus parliament" snap general election in the Autumn.
The working assumption of the Westminster bubble is that there will certainly be an election either just before or after 31 October, the scheduled date of our departure from the European Union. This is for the simple reason that, whatever happens, it is impossible to see how Boris Johnson's administration can govern effectively with a majority of one once parliament returns from 2 September.
That election won't so much be "people versus parliament" as "reckless gamblers versus everyone else."
On any measure, Boris Johnson cannot claim to speak for the "people" – it will no doubt be another lie he plasters across a campaign battle bus. Yet he became prime minister having been selected by Conservative Party members who make up less than 0.5 per cent of the electorate.
In the English local elections in May his party got 28 per cent of the vote.  Shortly after, in the European elections – likely to be the last national election held in the UK before the snap election – his party did even worse, coming fifth with 8.84 per cent of the vote.
He has now been PM for over a fortnight and his party has been polling at between 25-34 per cent since he entered No 10. There is no doubt he is seeking to plunder support from the Brexit Party and turn his party into the Brexit Party 2.0.
Even if you add the Brexit Party's support – which varies from 9-17 per cent – with that of the Tories, their combined support has always come in at no more than around 45 per cent since Johnson took office. So, the government doesn't even speak for half the people, never mind all "the people."
Ploughing headlong into a "no deal" Brexit will be a huge, reckless gamble with people's jobs and livelihoods. This is vividly illustrated by the first estimate of growth for the second quarter of this year published by the Office for National Statistics last week.
It showed the economy contracted by 0.2 per cent. Manufacturing saw its largest quarterly drop in 10 years, production had its biggest decline in seven years and services (which makes up most of the economy) had its weakest quarterly performance in three years. Brexit was THE overwhelming factor and we have not even left the EU yet.
Ministers know that a no-deal Brexit will involve an immediate shock to the economy which is one reason why they will seek to hold an election almost immediately after exit day – if it hasn't happened beforehand – so it takes place before the pain is really felt.
Michael Gove even floated the idea of announcing a Bank Holiday on 1 November in an attempt to delay the inevitable chaos until after people have been to the ballot box. There is a description for this type of behaviour – vote rigging.
Above all, a no-deal Brexit would be profoundly undemocratic, which is why it is vital we do all we can to stop it. Cross party discussions have been ongoing all summer on that front.
The Vote Leave campaign was deliberately vague on many of the aspects of the Brexit they promised to the British people but there was one clear commitment given by its leading protagonists both before and after the 2016 referendum: there will be a deal.
On 8 May 2016 Vote Leave, which Johnson led, declared without qualification on its website that "the referendum will be followed by negotiations with the other 27 EU member states, following which the UK will strike a new deal with the EU based on free trade and friendly cooperation."
Foreign secretary Dominic Raab has since tried to claim that Vote Leave campaigners warned "no deal" was a possibility but no one can find any record of this, including on its website. Indeed, in July 2017, while Johnson served as foreign secretary he asserted again that "there is no plan for no deal because we are going to get a great deal" in the House of Commons. They could not have been clearer on this point.
Then there is the overriding mandate the 2017 general election gave parliament. When a vague Brexit was put to the British people in 2016, 52 per cent of people participating in the referendum (37 per cent of registered electors) voted for it; but when in 2017 Theresa May put a more defined Brexit to the people – of the hard variety – she promptly lost the Tories their majority.
Parties representing a majority of electors in 2017 had set their faces against a "no deal" Brexit. So any mandate claimed for a hard Brexit died at this point – something the Vote Leave cabal in government have never accepted.
They try to deny the parliamentary arithmetic but the fact they could not get their extreme form of Brexit through the House of Commons this year has provided something of a wakeup call. Now they are seeking to force their no-deal Brexit through even if Johnson's administration – to all intents and purposes, a Vote Leave government – has lost the confidence of the House of Commons before 31 October.
This is definitely unconstitutional and, quite possibly, unlawful. It is certainly hypocritical given they argued for Brexit, in part, on the basis that it represented a reassertion of parliamentary sovereignty.
Let's put aside the issue of leaving without a deal for one moment, and turn to the core question of whether we leave the EU at all. You see, if the Remain/Leave question were put to the public again in a referendum, the opinion polls have pretty consistently had Remain in the lead since 2017. Today it would be 52.2 per cent Remain to 47.8 per cent Leave.
An overwhelming majority of the more than 2 million young people, who couldn't vote in 2016 and have since become entitled to vote, and they want to Remain in the EU. This is unsurprising given they will have to live with the consequences longer than any of us.  We also cannot forget that over 6 million people signed a parliamentary petition this year calling for Article 50 to be revoked.
The upshot of all of this is that Johnson, Gove, Raab and the rest of the Brexit elite see themselves a tribunes of the people – but they do not speak for the country. What they are seeking to do is a complete affront to our democracy. If efforts to prevent a no deal fail in the Commons, that leaves the concept of an emergency government as the solution.
If Boris Johnson's Vote Leave government loses any forthcoming confidence vote, there could be a majority for an emergency government to take office with the sole aim of securing an extension to Article 50 to allow a general election to take place before Brexit. However, the person who leads that emergency government must command the confidence of the House.
All Tory rebel MPs and, indeed, a substantial minority of Labour MPs would not give the Labour leader that confidence but would be open to other suggestions. The bottom line, though, is that for it to work Labour would have to support it and Labour has ruled out an emergency government. Shadow home secretary Diane Abbott was the latest to reject it last night.
This is not surprising, not least because lifelong Brexiteer, Labour leader Jeremy Corbyn, will be intensely relaxed if Brexit happens – he has spent years campaigning for it. Jo Swinson, on the other hand, has made it clear that we Liberal Democrats are very open to it because, as the UK's biggest and strongest Remain party, we are determined to do all we can not only to stop a no deal Brexit but to stop Brexit altogether.