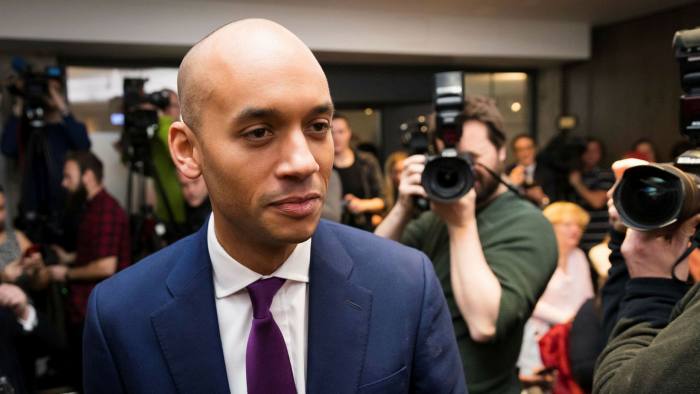 Former MP Chuka Umunna is to join communications company Edelman as executive director and head of environmental, social and governance consultancy, drawing a line under his turbulent political career.
The former frontbencher, once touted as a future Labour party leader, will be advising the capital markets and financial services arm of Edelman on topics such as audit, embedding ESG factors into decision-making and managing corporate transactions.
"Whereas in politics you do the theoretical side, I wanted to roll my sleeves up and get involved at the coalface," Mr Umunna told the FT. "I'm a capitalist but we need a different model for capitalism."
Mr Umunna is one of many high-profile appointments at recently created ESG divisions at UK banks and consultancy groups. The coronavirus pandemic and the protests that followed the police killing of George Floyd have also forced companies to put sustainability, resilience and diversity at the heart of their recovery plans.
New appointments include EY's managing partner and chairman Steve Varley who stepped down to lead the company's ESG efforts earlier this year.
Mr Umunna, a 41-year-old former corporate employment solicitor, believes the trend "isn't just a fad".
"We're not in the business of helping people greenwash, this isn't just an aesthetic thing — it's got substance," he said. "The financial argument is getting louder [and] ESG conscious companies which take more of a long-term view and prepare for these types of big systemic risks are just much better placed, and I think that's been borne out by the crisis."
The former shadow business secretary said he supported the new £3bn energy efficiency package that chancellor Rishi Sunak will unveil on Wednesday, saying "it's a no-brainer for the treasury to prosecute a recovery with sustainability at its core".
Mr Umunna left Labour last year to form a pro-EU centrist group called Change UK — which dissolved after 10 months — before switching to the Liberal Democrats ahead of the December general election.
"It was always my intention to return to the private sector at some point, I was never going to stay in the House of Commons for decades," Mr Umunna said.
Of Keir Starmer's performance so far as leader of the Labour party, Mr Umunna said that "competent opposition has been lacking over the past 5 years, so good scrutiny has been vital" but that the "next role will be to spell out a social democratic vision and that has barely begun".
He also indicated he would not be backing Mr Starmer at the next election. "I'm not going to be changing parties again, I've done plenty of that in my time," he said.
Hugh Taggart, Edelman UK's general manager of corporate affairs, said: "In a time of such profound change, we couldn't have found a better person than Chuka to spearhead our ESG offer and advise our clients. Chuka is a deep and analytical thinker [and] a passionate campaigner for a fairer society."