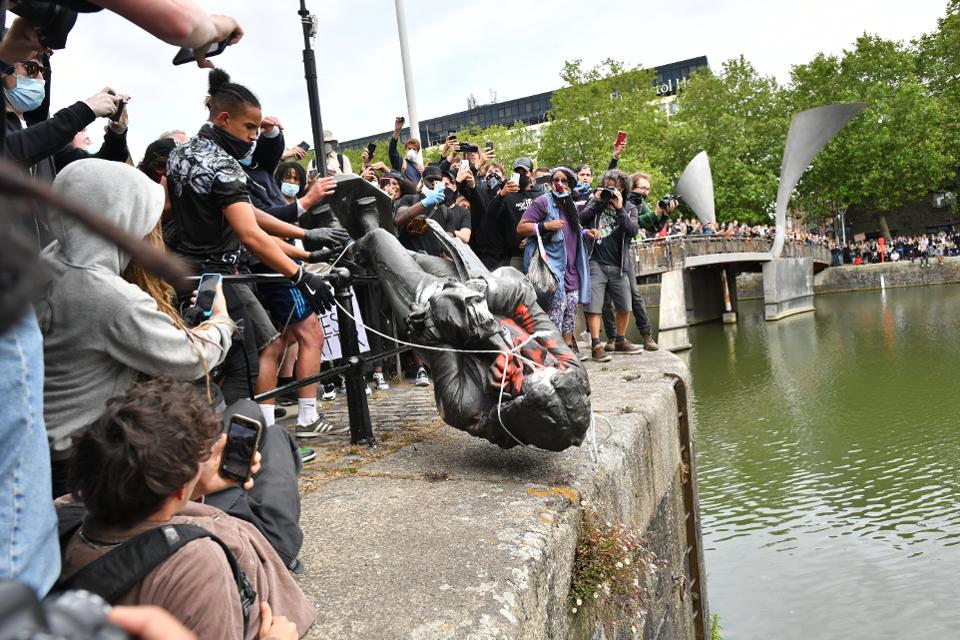 One evening in the late 1980s my father, an entrepreneur and one of the few black members of the Institute of Directors at the time, had the living daylights beaten out of him by our local police. He was subsequently arrested for no good reason but all charges were dropped. He seemed to have been apprehended for committing the crime of being a black businessman driving a smart car in London. No police officer was ever disciplined let alone sanctioned.
Having lived through that, it has been refreshing to see so many, particularly in business, waking up to the reality of what has been happening over the decades to so many families of black heritage in the US, UK and elsewhere in the wake of the murder of George Floyd in Minneapolis. There is no denying the impact on all of us of what happened to Floyd. Yesterday, it led protestors – of all races and backgrounds – to tear down a statute of the 17th century slave trader, Edward Colston in Bristol, the UK's sixth biggest city.
In the past most business leaders would have run a million miles from an issue like this. Not this time. Many have broken their silence to speak out. CEOs, from Amazon's Jeff Bezos to Zoom's Eric Yuan, have queued up to condemn what has happened. One can lambast business for only now having acknowledged what has been going after all these years, or you can focus on the positive – welcome their voices to the table and encourage them to do more and act. I prefer the latter.
As John Streur, CEO of Calvert Research and Management – one of the biggest responsible investment companies in the world – said last week, systemic racism is an ESG (environmental, social and governance) issue but the ESG investment community has failed to properly address it. "Responsible investors have come to trust ESG research and investment strategies to avoid investing in corporations that are lagging on taking needed action to address human rights violations and to take real action to drive needed change" he said but "as a group, we are failing to meet these needs." Streur argues that more forceful action is needed by investors, company leaders and boards. He is right.
Companies are corporate citizens which pay taxes – this in turn helps fund policing. Nevermind the clear moral imperative to act, business leaders have duty to act when the fundamental human rights of groups in society – which make up substantial numbers of their employees and customers – are being violated, as is the case here.
However, for the plethora of CEOs' statements to be credible and not to be seen as tokenistic, PR driven gestures, they must be backed by the right action. Predictably, the statements have been followed by scrutiny of what companies have done about race inequalities in their own backyards – for starters, when the statement comes from a CEO on an all white board with an all white executive team, it totally undermines the authority of the company concerned, as Nike has discovered. So what should businesses do? Here are some things to think about (this is not an exhaustive list)…
There is no point making any comment on the outrage of Floyd's killing and in support of the Black Lives Matter movement unless the whole of the board and senior executive team subscribe to the sentiment and want to do something about it, because without their buy-in, change is unlikely to happen. Stamping out racism – direct or indirect – in any organisation is a collective endeavour.
Be brutally honest about why the firm has only chosen to pipe up about such issues now. In the UK, where fewer CEOs have said anything about the Black Lives Matter movement, CEOs might want to explain why their companies did not speak out after the racist murder of the black teenager, Stephen Lawrence, in 1993 and following the publication of the report of the Stephen Lawrence Inquiry in 1999 which found there was widespread institutional racism against black people in Britain. The truth is COVID-19 and modern social media has helped shine a light on continuing race inequalities like never before and it has brought a big reality check to a lot of people.
Look at your own company's diversity statistics, publish them if you don't already do so, and come clean about why they are not what they should be, particularly in your boardroom and with regard to your executive leadership team. Don't be shy of admitting unconscious bias and a tendency to recruit and promote in one's own image, where that is an issue.
Over a third of our largest listed companies in the UK are likely to miss the target to have at least one director from an ethnic minority by 2021 according to the government sponsored Parker Review. During my several years of working as a corporate lawyer in the City London – which likes to boast about being the world's leading, international, financial centre – I was almost always the only face of black heritage in the room. At every gathering of senior business leaders I spoke to as Shadow Business Secretary whilst serving in Parliament, I cannot remember there ever being another black face in the room either. Unless these problems are acknowledged, you can't address them.
As the Parker Review pointed out, developing candidates for your pipeline and planning for succession in a systematic way is crucial. Companies must put in place systems to identify, nurture and promote people of colour within their workplaces to ensure there is a pipeline of Board capable candidates, and they should ensure their managerial and executive teams reflect the importance of diversity to their organisations. The data in 2020 does not support the nonsense which is parroted about there not being sufficient black candidates for senior roles – there are plenty if you look for them. If your head-hunters tell you there aren't enough black candidates, get rid of them and find better recruiters.
The City is surrounded by incredibly diverse boroughs but the workplaces there look nothing like the communities around it in inner-London like Lambeth where I grew up. By all means make donations to charities working to reduce race inequalities and get far more involved in community action initiatives in those areas, but what are you going to do to ensure more young black people from those communities make it into your work places, deal rooms and trading floors?
Advanced, which is the third largest software company in the UK (I am a non-executive director on its Board) has a recruitment process which is completely non-biased, not based on your CV or background. We have two tests for candidates to complete from which we recruit and we then focus on internal mobility – training these people through our own training programmes and moving on their career. Last year over 60% of all vacant roles in the business were filled internally through people progressing. More of this kind of thing is needed across the corporate landscape to break down barriers to progress.
Above all, whilst social justice demands there be change, shareholder value does too. In their recently published report on diversity, McKinsey found that in the case of ethnic and cultural diversity, top-quartile companies outperformed those in the fourth one by 36% in profitability. Put simply: if you allow race inequalities to persist in your company, it will adversely impact on the bottom line.