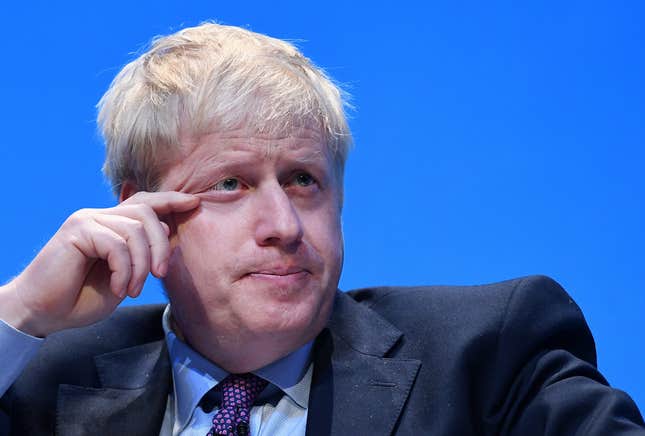 160,000 Conservative Party members are in the process of choosing Britain's next prime minister – that's 0.34 per cent of the electorate. By dint of the fact we are a parliamentary democracy with a broken two-party, first-past-the-post electoral system, this is what we are saddled with until we elect a government that is prepared to change it.
The Tory membership is in no way representative of modern Britain in its make-up, never mind its views. The ESRC Party Membership Project – run by Professor Tim Bale and others at Queen Mary, University of London – is the most extensive study of the membership of the UK political parties available and they have examined who these members are.
The average age of a UK citizen is 40, over 65s make up around 18 per cent of the population, and those aged between 24 and 18 make up 9 per cent of the population. On this measure, the Tory party is in no way representative. The Project found that the average age of a Tory party member is 57, significantly older, with 38 per cent of Tory party members aged 66 and over, and 7 per cent between 25 and 18 years old.
Tory members are not represented by gender or ethnicity either. The population is split more or less equally between the genders, yet three-quarters of Tory members are men. Whereas around 14 per cent of the population is of an ethnic minority background, just 3 per cent of Tory party members are non-white.
And they are a lot richer than the average Brit too. A large majority of Tory members are drawn from high earners. The average salary in the UK is around £29,500 but 4 out of 10 members put their income at over £30,000 with one in 20 declaring they earn over £100,000. It is no coincidence that Boris Johnson was touting a huge tax cut for the highest-earning 3 per cent in society at the start of the leadership contest.
And this unrepresentative 0.34 per cent of Britain have some pretty extreme views. Jon Stone reported on these pages last week, that they are happy to drive the economy off a cliff and break up the UK to secure Brexit. Sixty one per cent of members are happy to see "significant damage" to the UK if that is the price to be paid for Brexit. Sixty-three per cent said they would be prepared to accept Scottish independence to get Brexit and 59 per cent said the same about a united Ireland.
It gets worse. Today, we learn that 40 per cent of Tory party members think the government should reduce the number of Muslims entering Britain according to a YouGov poll for Hope Not Hate. Just 8 per cent of the party's members "would be proud of Britain if we were to elect a Muslim as our Prime Minister" and 43 per cent agreed that they "would prefer to not have the country led by a Muslim". HNH's campaigns director Matthew McGregor said: "From the grassroots to the great offices of state, Conservative members buy into racist myths, with almost half unwilling to have a Muslim prime minister – and only 8 per cent being proud to have one – and most denying that there's even an issue to confront."
This brings me to the man most likely to win the Tory party leadership contest and become prime minister – Johnson. It is quite extraordinary that he should be the frontrunner, not because of the rows he is alleged to have had with his girlfriend but because of his past racist utterances. He has described black people as "piccanninnies" with "watermelon smiles." Last summer, he compared Muslim women wearing veils to "letterboxes" and "bank robbers." And, this weekend, none other than Steve Bannon, right-wing populist and former campaign manager to Donald Trump, revealed that he worked with Johnson on his government resignation speech last year. I don't know whether Johnson is a racist or not – only he can answer that question definitively. But there is no doubt that the aforementioned comments are racist and, at the very least, they reveal a complete disrespect and condescension towards those of a different ethnicity.
Some appreciate the gravity of all of this, like Sky News' new political editor Beth Rigby, who tackled Johnson about these matters at his first leadership campaign press conference and was jeered by those present for doing so. However, many in the Westminster bubble simply don't understand the significance and why it matters so much.
I raised Johnson's racist comments on BBC2's Politics Live programme last Friday. I was told by Andrew Neil that these past utterances don't matter in the leadership contest because "people know all that" and are already aware of Johnson's past racist remarks. On the same programme, one of Johnson's cheerleaders, Tory Culture Select Committee chair Damian Collins, brushed them aside on the basis that Johnson was twice elected Mayor of multicultural London and therefore they were not such a problem now. The Brexit Party's new MEP Anne Widdecombe denied Johnson's remarks were a "big issue".
But this does matter, which is why I will keep on banging on about it. As a British person of colour, one of the first things that goes through one's head on hearing such comments is – "if he says that about others, what on earth would he say about my family?" Johnson excuses his disgusting comments by saying his main crime is to speak plainly. "If sometimes in the course of trying to get across what I genuinely think, I use phrases and language that have caused offence, of course, I'm sorry for the offence that I have caused. But I will continue to speak as directly as I can."
This, to me, is simply not good enough and fails to acknowledge the seriousness of what is at stake. In my view, so many of Johnson's past comments should disqualify him from the highest office in the land. If he does go on to win this contest and on 25 July visits the Queen and becomes prime minister, I fear it will be another step towards normalising prejudice and hatred in our country. It's as simple as that.